Case-study 1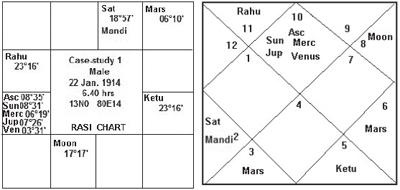 Mercury dasa balance at birth: 14years 4months 19days.
(Ref: Three hundred Important combinations by Dr B.V. Raman, Chart 101)
In case-study 1, lord of the ascendant
(Saturn)
, lord of 7
th
(Moon)
and Jupiter are not strong causing Anapatya Yoga
(Childlessness)
. Lord of the 7
th
(Moon)
is in the 11
th
. The 5
th
lord Venus joins a benefic and Saturn occupies the 5
th
along with Mandi caused Yoga for adoption to this native.
Kalyana Varma mentions in Saravali.
"If the 5th Bhava be a sign owned by Saturn or Mercury, and is aspected by or associated with mandi or Saturn, the person concerned will have a son by adoption. The same will be the result, when the lord of the 5th house is weak and is not connected in any way with the lords of the 1st and 7th houses".


Jataka Parijata says in Chapter 13
"If the Moon be in a malefic Rasi and the lord of the 5th bhava be in the 9th and if the lord of the Lagna be in a Trikona, there will be a son by adoption".
More planetary combinations responsible for child adoption
1)
Ketu in the 12th to Jupiter or conjunct Jupiter with less degree
2)
The 5th lord or 5th house conjunct with the 6th, 8th or 12th lords and in Papakartari Yoga
3)
The 5th house being in a sign of Mars occupied by Saturn and Rahu
4)
5th lord occupying a house of Mercury, and Jupiter being placed in one of the houses of Mercury
5)
Saturn in the 5th, exchange of 1, 5 lords and a weak Jupiter
6)
5th lord and Mercury conjunct in 6,8 or 12 and aspected by a Natural benefic
7)
5th lord conjunct Mars and aspected by Saturn
8)
8th lord in 5th, 5th lord in 12th and Jupiter in a kendra
9)
Saturn in the 5th, with Rahu in 4th or 12th conjunct malefics
10)
The lord of 5th to the Moon conjunct Venus and posited in less fruitful sign or in barren sign and aspected by malefics
11)
7th lord in 5th conjunct malefics and Jupiter being powerful
12)
The ascendant falling in an Even sign and the lord of the 5th house occupying the 4th in the Navamsa of Saturn
13)
The association of the lord of the 5th house, the Sun and Mercury occurring in a Navamsa of Saturn or of an Even sign
14)
A strong benefic posited in the 5th house, not aspected by another benefic
15)
The 5th house coinciding with Capricorn or Aquarius, and Saturn aspected by the Moon placed therein
16)
Moon occupying a sign of Saturn, and Mercury without any point of strength
17)
When Mars and Saturn occupy the 5th house and when the ascendant lord is in a sign of Mercury or is associated with Mercury
18)
The 7th lord being Sun in the ascendant along with Saturn and aspected by Mars.
19)
If the 5th house falls in Gemini, Virgo, Capricorn or Aquarius, and has the association or aspect of Saturn or Mandi
20)
If the 9th house is afflicted with Saturn and Mandi, and Lagna Lord is badly disposed to the 9th house and 9th Lord. If the 5th lord is a eunuch planet, the 5th house is conjoined with or aspected by a eunuch planet and also occupied by Mandi, and Jupiter is powerful.
The above combinations occurring in Divisional charts also create a strong Yoga for Adoption.
Adoption of a girl child :
Balance of 10years 11months 29days of Mercury Dasa at birth
Here, lord of the ascendant Sun joined with Mercury has reduced the ability to procreate; lord of fifth joining with malefic Rahu gave strength to Anapatya Yoga. As per Sage Parasara, Saturn placed in own house in Rasi, but in the house of Venus in Navamsa gave strength to adoption of a girl child. Also, a strong benefic positioned in fifth(Jupiter) without being aspected by another benefic gives way for adoption (vide Rule 14 as above).
Surrogacy
In India, if a woman is unable to conceive, she is looked down with great disdain. This may be because of Anapathya dosha(childlessness) in her chart. This can be deciphered from the following combinations in a woman's chart :
a. Venus and Moon either join with Saturn or Mars in the ascendant or being aspected by them makes a woman barren.
b. Sun placed in eighth to the Ascendant, Moon placed in own house indicates that the woman will not beget children.
c. Own houses of Saturn and Mars being Capricorn, Aquarius, Aries and Scorpio being the ascendant of the native and Venus
and Moon are either posited in it or aspecting it, strengthens Anapathya yoga for woman.
A woman might decide to use a surrogate for the following Medical reasons :
She may have medical problems with her uterus.
She may have had a hysterectomy i.e., removal of uterus.
There may be conditions that make pregnancy impossible or medically risky, because of severe heart disease etc.
By opting child by surrogacy, the wife does not have to go through the physical and emotional pain of miscarriages, if she cannot give birth naturally. With the advancement of Medical science, there are many methods, which can help the couple get a baby, that biologically belongs to them. Astrology can also put some light or direction regarding the child-birth through Surrogacy.
5th house is the house of children. Basically the Watery signs are considered fertile, along with Taurus and Libra to some extent; Jupiter, Venus and the Moon are considered beneficial, if well-situated. When 5th house and its lord, natural significator of children Jupiter, Putrakarak in Jaimini are strong in the birth chart of father, child birth is confirmed. If Divisional charts like Navamsa and saptamsa also confirm this, then the native will have children. But when there is malefic influence in the birth chart of female indicating problem in child-birth or bearing pregnancy or fertilisation process, adoption or surrogacy are indicated. In such cases, when the male is having the good combinations to become a biological father, he can go for child birth by third one, known as surrogate mother.
But it is interesting to note that not only childless parents, but also couples who are having children of their own are also going for surrogacy, to have another child. In such case, the yoga for childnessness may or may not be present in the charts of such natives, depending on the need for surrogacy.
Jataka Parijata :
"If there be a planet in the 5th bhava possessing full strength and the lord of the 5th be unaspected by any planet, then the person concerned will have sons by adoption and other ways".
Jatakaabharanam (Chapter on Putrabhava phala) :
"Saturn's own places (Capricorn and Aquarius), if happen to be the fifth bhava and Saturn placed in it and aspected by Moon indicates adopted son. Saturn, if placed thus, is aspected by Mercury, it indicates adoption, through purchase.(paying money for adoption or to surrogate mother?)".