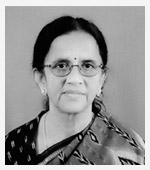 Dr. S. Shantha
Dr. S. Shantha has been practising diligently to make her study of astrology excel. An Arts Graduate, Dr. S. Shantha (email:skalyan77@gmail.com; mobile:+91-9884303671; +91-7401062525) took a lot of interest in the subject of Astrology, amidst her Banking career in a Nationalised Bank. She did M.A. in astrology in a recognized University in South India. Later she was conferred a Doctorate from the same University for her thesis. Dr. S. Shantha says that she has been learning a lot through application of the astrological theories in various charts of her friends and clients, in the past decade. Here, she shares a few of her successful predictive techniques.
How did you start taking interest in Astrology? Do you remember your first exposure to Astrology, which prompted you to study Astrology very seriously and acquire Doctorate?
When I was working in the Bank, I used to predict the results of the examinations, which my friends wrote for their promotion, based on their date of birth, date of results, their sitting place, etc. I had been doing these by reading some Vastu and Numerology books. I attended some Astrology classes in Bharathiya Vidya Bhavan, Chennai and ICAS Seminars in Chennai Chapter. I possess intuitions also, which my friends used to point out. On one such occasion, one of my colleagues wrote examination for promotion Scale VI cadre. There was news from Corporate office that no one got through from Chennai Module. But I strongly said that he would get through somehow, according to the direction of his cabin and his sitting place, combined with the date of result. When the result came through Fax, to the surprise of everybody, his name was in the list of candidates who got through successfully. That gentleman had studied Astrology, and he and some other friends advised me to study Astrology properly. I joined B.A. Astrology in a recognized University, but I could not continue due to some domestic problems. Then I joined directly in Post Graduate course and came out in flying colours; then decided to continue the studies to get Doctorate, after analyzing my Birth chart about the "Yoga" for Doctorate. This incident and several other incidents in my life prompted me to do the research on PAC (Placement, Aspect and Conjunction) of planets in Birth chart and in transit, with reference to Dasa bhukthi. I started applying these techniques, when my colleagues and relatives ask for prediction.
Could you cite references from classics, for your predictive techniques?
Placement:
After analyzing many number of charts, I found uniqueness in PAC of charts. For example, for placement of planets, in general, we see that planets in own house, in exaltation or friendly house doing good to the native in their dasa-bhukthi. But if the particular planet is placed in fatal degree (Mrityu Bhaga), then the native would extremely suffer, according to the Karakatwa (significations) of the planet, the house they occupy and the houses aspected by them, even in transit also.
Do not be proud of wealth, people, relations and friends, or youth. All these are snatched by time in the blink of an eye. By giving up this illusory world attain the Supreme.
- Adi Shankara
I want to share a few points about job prospects and Saturn, which I have learnt through the experience of analyzing the charts of my clients and friends. In Gochara, if transit Ketu is ahead of transit Saturn, and if there is no planet in between Ketu and Saturn, and also if Saturn is associated with 10th house, then the native would get difficulty in getting a new job. Hence, the native should not leave the present job. Example: Saturn is in Sagittarius now and Ketu in Capricorn. Ketu is approaching Sagittarius and Saturn is approaching Capricorn. So Ketu is ahead of Saturn...not good time for job-seeking.
As per Jataka Parijata and Sarvartha Chintamani, Mrityu Bhaga Degree of planets in each sign:
| | | | | | | | | | | | | |
| --- | --- | --- | --- | --- | --- | --- | --- | --- | --- | --- | --- | --- |
| Planets | Ar | Ta | Ge | Cn | Le | Vi | Li | Sc | Sg | Cp | Aq | Pi |
| Sun | 20 | 9 | 12 | 6 | 8 | 24 | 16 | 17 | 22 | 2 | 3 | 23 |
| Moon | 8 | 25 | 22 | 22 | 21 | 1 | 4 | 23 | 18 | 20 | 20 | 10 |
| Mars | 19 | 28 | 25 | 23 | 29 | 28 | 14 | 21 | 2 | 15 | 11 | 6 |
| Mercury | 15 | 14 | 13 | 12 | 8 | 18 | 20 | 10 | 21 | 22 | 7 | 5 |
| Jupiter | 19 | 29 | 12 | 27 | 6 | 4 | 13 | 10 | 17 | 11 | 15 | 28 |
| Venus | 28 | 15 | 11 | 17 | 10 | 13 | 4 | 6 | 27 | 12 | 29 | 19 |
| Saturn | 10 | 4 | 7 | 9 | 12 | 16 | 3 | 18 | 28 | 14 | 13 | 15 |
| Rahu | 14 | 13 | 12 | 11 | 24 | 23 | 22 | 21 | 10 | 20 | 18 | 8 |
| Ketu | 8, | 18 | 20 | 10 | 21 | 22 | 23 | 24 | 11 | 12 | 13 | 14 |
| Mandi | 23 | 24 | 11 | 12 | 13 | 14 | 8 | 18 | 20 | 10 | 21 | 22 |
| Ascendant | 1 | 9 | 22 | 22 | 25 | 2 | 4 | 23 | 18 | 20 | 24 | 10 |
As per Phaladeepika, Mrityu Bhaga Degree of Moon differs from the above a little. See below:
| | | | | | | | | | | | | |
| --- | --- | --- | --- | --- | --- | --- | --- | --- | --- | --- | --- | --- |
| Planet | Ar | Ta | Ge | Cn | Le | Vi | Li | Sc | Sg | Cp | Aq | Pi |
| Moon | 26 | 12 | 13 | 25 | 24 | 11 | 26 | 14 | 13 | 25 | 5 | 12 |
Shri P.S.Iyer in his "Yoga Tarangini" explained the Fateful degree of the planets thus:
Planets
Debilitation
Malefic Houses and Degree
House of Avayoga
Sun
Libra
16.40o to 30°
Cancer, Scorpio, Pisces
Aquarius
Moon
Scorpio
1o to 13.20°
Aries, Leo, Sagittarius
Capricorn
Mars
Cancer
13.20o to16.40°
Aries, Leo, Sagittarius
Taurus, Libra
Mercury
Pisces
6.40o to 20°
Gemini, Libra, Aquarius
Sagittarius, Pisces
Jupiter
Capricorn
10o to 23.20°
Taurus, Virgo, Capricorn
Gemini, Virgo
Venus
Virgo
3.20o to16.40°
Cancer, Scorpio, Pisces
Aries, Sagittarius
Saturn
Aries
23.20o Taurus to 6.40°
23.40o Virgo to 6.40°
23.20o Capricorn to 6.40°
Gemini
Libra
Aquarius
Leo, Cancer
I apply these, which works out correctly. For example, Saturn in Libra is exalted; for Capricorn and Aquarius Lagnas, it is Lagnathipathi. But during its dasa, when it is 6o in Libra, an Aquarian native suffered the maximum loss. The native lost spouse (in the natural Zodiac, Libra is 7th house), lost job (12th to 10th house) lost all properties (6th to 4th house).
Aspect and Conjunction:
We may come across people often talking about "Pancha Maha Purusha Yoga" in a particular chart. But the native may not enjoy the yoga benefits. According to Deva Keralam, if the planet's exalted house-lord is aspected by the lord of its debilitated sign-lord, then Pancha Maha Purusha Yoga produced by the planet in its exalted house gets cancelled. For example for Gemini/Virgo Lagna, Venus geting exalted in Pisces gives Malavya Yoga; suppose the sign-lord Jupiter is in Aries; Jupiter gets debilitation in Capricorn and the sign-lord is Saturn; if Saturn aspects Jupiter, the Malavya Yoga is nullified. But caution to be exercised while considering the aspect, the exalted lord of the planet should be aspected by the neecha lord of the exalted house lord.
(E.g. Venus exalted in Pisces; the sign-lord Jupiter gets debilitation in Capricorn; Saturn should aspect Jupiter and not Jupiter should aspect Saturn)
. Sometimes the auspicious results of some other yogas may be taken into account as that of the auspicious result of '
Maha Purusha Yoga
'. Therefore, the cancellation of this yoga in a chart should be carefully studied.
Cancellation of Pancha Maha Purusha Yoga (PMY)
Planets
Yoga
Lord of Exaltation Sign (B )
Lord of DebilitationSign of B
Yoga for cancellation of PMY
Venus
Malavya
Jupiter (Pisces)
Saturn (Capricorn)
Jupiter + Saturn or Sat. aspects Jupiter
Jupiter
Hamsa
Moon (Cancer)
Mars (Scorpio)
Moon + Mars or Mars aspects Moon
Mercury
Bhadra
Mercury (Virgo)
Jupiter (Pisces)
Mercury + Jupiter or Jupiter aspects Mercury
Mars
Ruchaka
Saturn (Capricorn)
Mars (Aries)
Saturn + Mars or Mars aspects Sat.
Saturn
Sasa
Venus (Libra)
Mercury (Virgo)
Venus + Mercury or Mercury aspects Venus
(Mercury being aspected by Venus is astronomically impossible and so in Divisional Charts, it may be taken into account)
PAC should be considered with Dasa Bhukti. Here is an example. One of my clients got a very good opportunity in his career i.e. offer for the post of Vice President with sizable increase in salary and other perks, from a well-reputed company in India, during September 2017. I predicted that he might not join, based on his Dasa-bhukti and Antara. The native is Taurus Lagna, running Sun mahadasa; Mercury Bhukti; Venus Antardasa (i.e. houses 4, 5 and 6 are in operation). 4th lord Sun in 6th house and 2nd lord Mercury in 6th. For job change or loss, we need to analyse 1,5, 9 (12th to 2,6 and 10). Especially if the 6th is in operation, there may not be any change in job. The native had to decline the offer, as he was instructed to join in Mumbai from Bangalore(where he is now working). His 6-year old son got hurt while playing and so the native wanted to be with the family. Also he expected some financial benefit from the present company itself in the next year.
In another case, during July 2014, a native in US was about to resign her job, due to the change of department in the same company, which was not liked by her and got humiliated by juniors, who were well versed in that platform, which was new to the native. Lagna of the native is Pisces; 10th lord Jupiter was transiting in Cancer, which is 5th house. 5th lord Moon's dasa was running (5th being 12th to 6th house, the thought of leaving the job). I advised the native not to leave the job; when Jupiter, 10th lord, transited to Leo (6th house) in atichara during the first week of December, things would be alright (Jupiter was in Leo from 4 Dec. 2014 to 22 Dec.2014). The native called me on 10th December 2014 over phone and informed about the transfer to the old position and being happy.
One more incident I like to share here. Once, a client showed his son's chart and told that IT company in which he was working had started issusing Pink slip to a few and his son was also in the list. The native is Capricorn lagna. Rahu dasa and Rahu Bhukti were running. Rahu is placed in the 11th house, in 6th lord Mercury's star Jyeshta. Therefore I considered 6th lord's association to be there. Hence I predicted no loss of job. Further I told him that he would go abroad, during Jan. to Feb.2015. Journey is indicated by houses 3,9 and 12 in operation. His 3rd and 12th lord is Jupiter and 9th lord is Mercury. He informed me that he got an Onsite project in US and would be leaving in Jan. 2015. Period Rahu-Rahu-Saturn-Rahu was in operation. (Saturn in Arudra Star in the 6th in the natal chart).
Apart from the above PAC and Dasa-bhukti techniques, do you use Ashtakavarga also sometimes?
Yes. I used to give prediction considering Samudaya Ashtakavarga. Ashtakavarga is an age old theory, which was, for the first time explained by Lord Shiva to his consort Shri Parvathi.
Ashtakavarga helps us to know the longevity of a person, results of various planets from time to time on account of the incessant movements of them, changing their positions from their natal position.
Ashtakavarga refers to eight sources of energy, including Lagna in a Birth chart. In an Ashtakavarga chart, if a planet is at the cusp at the beginning or the end of a Zodiacal sign, then the results obtained may be doubtful; similar will be the case in a Bhava chart, when there are two houses in one Zodiacal sign or one house containing two Zodiacal signs. Hence we may consider the degree-wise difference and the Zodiac sign of planets, while giving predictions.
If we give predictions based on Bhinnashtakavarga, which does not include Lagnashtakavarga (benefic points based on the ascendant) where the total is 337, is not proper.
Samudaya or Sarvashtakvarga
A Table consisting of 12 houses and 7 planets i.e. of 84 squares (in which starting from lagna and all seven planets remain together) prepared by adding together all the points is known as Samudaya or Sarvashtakavarga. Samudaya or Sarvashtakavarga can be prepared without preparing Bhinnashtakavarga-vide Prashna Marga (Ch 32. sloka 59-60); Jataka Deshmarga (Ch 9. sloka 35-36); Horasara (Ch 17. sloka 73-74) and Phaldeepika (Ch 24, sloka 34-35).
If planets, which are considered strong i.e . in exalted, own house, in friend's house, in Kendra, Trikonas and Upachaya (3, 6, 10 & 11) houses, get less than 28 benefic points, then they shall give adverse results.
If weak planets such as lords of 6th, 8th and 12th houses, planets in 6th, 8th and 12th houses, debilitated planets, planets with malefic or in enemy's house have more than 28 benefic points, then they shall give benefic results.
As per classics, for Lagna and subsequent houses, minimum number of benefic points have been determined:
| | |
| --- | --- |
| House No. | Points |
| 1 | 25 |
| 2 | 22 |
| 3 | 29 |
| 4 | 24 |
| 5 | 25 |
| 6 | 34 |
| 7 | 19 |
| 8 | 24 |
| 9 | 29 |
| 10 | 36 |
| 11 | 54 |
| 12 | 16 |
| Total | 337 |
Houses which contain 30 or more benefic points give benefic results, houses with 25 to 30 benefic points give average results and houses with less than 25 benefic points shall give adverse results. (BPHS. Ch.72. Sl.6). The direction indicated by the houses with 30 or more benefic points should be selected for beginning education. For getting success in litigation, one should choose the time at which the sign holding a large number of benefic points rises.("Prasna Marga" Ch.32 Sl.48).
If 6th,8th & 12th houses contain less than 25 points, the results will be favourable. The effects will become adverse, if these house contain more than 25 points.
The houses which are having less benefic points, if get aspected by benefic planets, then the malefic results will be reduced; if aspected by both malefic and benefic planets, the result will be mixed. In case of houses having more benefic points, the benefic result will be much more.
Wealth and prosperity,
If the 11th house has 54 benefic points, provided not related to malefic, then the native earns without any hardship. Easy gain.
One will get sudden monetary gain, if 1st and 9th house have more than 29 points, without any association of malefics.
When the total sum of the benefic points in the 1st 2nd , 4th, 9th,10th and the 11th houses is more than 164, then the native will be happy and his income will be more than his expenses.
If the total sum of the benefic points of the 6th house, 8th house and the 12th house is less than 76, then the income shall be more than expenses. If the total is more than 76, expenditure will be more than income.
If the benefic points are more than 30 in 1st, 4th and 11th houses, then the native will have commanding personality and will earn lots of money after the age of 40.
If there are 30 or more benefic points in the 1st , 9th, 10th and the 11th houses, the native will be happy like a king throughout his life or will have power like a king.
If the lagna, Moon, 10th house and 11th house have 30 or more benefic points, and if the lagna is aspected by Jupiter, then the native becomes Minister or a Chief Minister of a state.
Benefic points in Zodiac signs
There are many ways given by our Sages to form these divisions. Some of them are

(i) Aries to Cancer; (ii) Leo to Scorpio;(iii) Sagittarius to Pisces.

Pisces to Gemini; (ii) Cancer to Libra; (iii) Scorpio to Aquarius.

Ascendant to 4th house; (ii) 5th house to 8th house; (iii) 9th house to 12th house;

12th house to 3rd house; (ii) 4th house to 7th house ; (iii) 8th house to 11th house;

Kendra houses (1,4,7 &10); (ii) Panaparas (2,5,8 &11) ; (iii) Apoklima houses (3,6,9 & 12)
If the 1st division gets more benefic points, the native will be happy in young age; if the 2nd one gets more benefic points, then the the native enjoys during middle age and if the last division gets more benefic points, then later years(old age) will be happy for the native. If all divisions have nearly same number of benefic points, then the whole life is a happy one. If in any division, the benefic planets are placed, then that part of the life is a happy one. If in any division, the benefic as well as malefic planets are placed then that part of life gives mixed results. Any division which contains malefic planets will be unhappy and sad.
Miseries and happiness
Add up the total number of benefic points starting from the ascendant till the house which has Saturn (both inclusive). Multiply this total by 7 and divide the result by 27. Note the remainder as well as the Quotient, obtained by the division. Count from Aswini nakshatra to the nakshatra which coincides with the remainder. Whenever malefic planets are passing through that nakshatra, the native gets major illness, hospitalization, etc. If the native has malefic planets in the 5th house and the 9th house, then such a native will have severe problems due to illness. As per the quotient number, we can find out the age, at which the native will have illness.
We can calculate in the same method starting from Saturn to lagna, from Mars to lagna and lagna to Mars in such years revealed by the remainders, difficulties like grief, tiredness and diseases will surely happen ("Horasara" Ch.17. Sl.88). In the Same way, add the points from Lagna to Venus or Lagna to Jupiter or Lagna to Moon for good result.
Case-study 1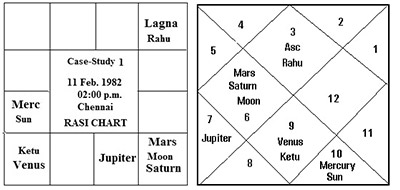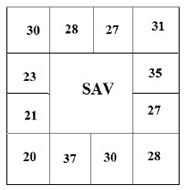 Sarvashtakavarga
| | |
| --- | --- |
| House No. | Points |
| 1 | 31 |
| 2 | 35 |
| 3 | 27 |
| 4 | 28 |
| 5 | 30 |
| 6 | 37 |
| 7 | 20 |
| 8 | 21 |
| 9 | 23 |
| 10 | 30 |
| 11 | 28 |
| 12 | 27 |
| Total | 337 |
From Lagna to Saturn (1st to 4th house) 31+35+27+28=121x7=847 divided by 27; Quotient - 31; Remainder -10
From Aswini, 10th nakshatra is Makha (Leo sign) .On August 21, 2002 Mars was in Leo transiting in Makha nakshatra. On that day, the native was diagnosed Type 2 Diabetic. In the chart, 6th lord is Mars and the 6th house attained more than 30 points i.e. 37 points. Now for auspicious result, add the benefic points from lagna to Venus, which is 7th house in the chart.
The added points from lagna to Venus is 31+35+27+28+30+37+20=208x7=1456 divided by 27
Quotient-53; Remainder -25
As given in Horasara Ch.17. Sl.86-87, the remainder reveals the year(age) also.
The native was blessed with a girl child on 08 Dec. 2007, when Venus was transiting in Libra - 5th house of the chart, which has 30 benefic points and Jupiter is posited in the 5th house. The native was 25 years of age (Feb. 2007- Feb.2008).
Case-study 2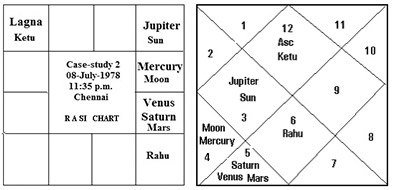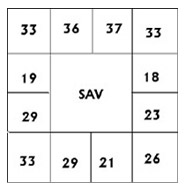 Sarvashtakavarga