Dawn of New Year 2017
By Dr.Ch.D.Ravindra Nath

In the horoscope cast for New Year 2017, Lord of Ascendant and fourth(Mercury & Jupiter) having exchange of houses, having temporary friendship with each other give good indications in respect of strength to Government, success in elections, control of prices, efficient administration, good economy, success in explorations, mega constructions and projects taking shape etc., But the fact that Jupiter (lord of 4th) stationed in an enemy's sign Virgo dilutes the good indications substantially. Jupiter considers Mercury, the sign dispositor of Virgo, as an enemy. Also, Mercury is placed in a 'vedha' position to Jupiter. This will result in intolerance, discontentment and agony of the intelligentia, and country as a whole, missing the goals in the last minute. The retrogression of Mercury, angular placement of Saturn with Mars may result in anti-reservations campaign gaining wider base this year.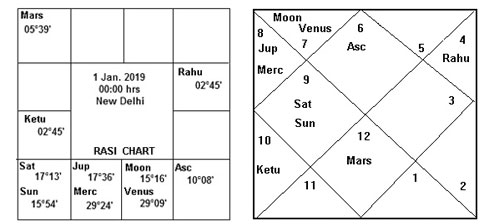 Rising sign Virgo at 10° 34', its lord Mercury placed in the 4th, having exchange of houses with the lord of 4th Jupiter give favorable indications in respect of Ascendant and 4th houses. Strength to Government, success in elections, control of prices, efficient administration, good economy, success in explorations, mega constructions and projects taking shape etc. But the fact that Jupiter (lord of 4th) stationed in an enemy's sign Virgo dilutes the good indications substantially. Jupiter considers Mercury, the sign dispositor of Virgo, as an enemy. Also, Mercury is placed in a 'vedha' position to Jupiter. This will result in intolerance, rebellious mood of the intelligentia, unable to reach the goals or missing the goals in the last minute. The retrogression of Mercury, angular placement of Saturn with Mars may result in antireservations campaign gaining wider base this year.
GDP growth :

India is expected to register a 7.6 per cent growth rate in the year 2016. According to World Bank Report, our economy can register 7.7 growth rate in the year 2017. This is because of the large boost from historically low oil prices in the past one and half years. Prospects of a normal Monsoon will help to activate the stalled engines of agricultural growth and rural demand, trade and private investment. While doing so the monetary policy ensures that demand from urban households and public investments, and also the working engines of the economy do not run out of fuel.


India's performance in Sports events :

Major sports events to be held in the year 2017 are:

1) ICC World Test Championship: Indians love Cricket more than anything else. In 2017 ICC World Test Championship will be held in England and Wales from 1st June to 18th June. Contestants in Group-A are Australia, Bangladesh, England and Newzealand. Group-B:India, Pakistan, South Africa and Sri Lanka. India plays against Pakistan on June 4th, Against Sri Lanka on June 8th and against South Africa on June 11th in the year 2017. Finals will be on June 18th. As per the planetary positions on the above dates and after superimposing the day charts on the dawn of 2017 and also taking into account the Vedhas afflicting the major planets, India will get a tough fight with Pak but may scrap through. India is likely to reach the Finals.

2) Women Cricket World Cup: This will be held from June 26th to July 23 in England(Ireland). Presently India is in the 6th place in 8 ranks in Women's Cricket. India will give memorable performance.

3) Delhi International Triathlon in February, 2017. Because of Sama Saptaka (180 degrees) position of Jupiter with Mars during February 2017, India will win medals in Swimming, Cycling and Running.

Ruling Party at the Centre :

BJP's Horoscope

In Moon Dasa Mercury bhukti, BJP could capture power in the General Elections of 2014. This Party could not make any progress in Assembly elections in 2016 in Ketu bhukti. BJP will be in Moon Dasa Venus bhukti from February 2016 to October 2017. Venus as the lord of 4th and 11th placed comfortably in 11th could bestow favorable results, but not a comfortable win. In Goa, Punjab and Uttarakhand, BJP will consolidate its position.


Four planets in Retrogression :

Saturn, Jupiter, Venus and Mercury will be in retrogression from 10 April 2017 to 15 April 2017. During this period, Retrograde planets Jupiter, Saturn and Venus will be in angular placement to one another and Retrograde Mercury will be in trinal relation with Retrograde Saturn. After considering the constellations in which these retrograde planets will be placed at that time, we can conclude that India will receive many positive results in respect of Science and Technology, new innovations in agriculture, boost to air travel and substantial increase in our Exports with huge rise in foreign currency reserves. India is hitherto dependent on import of vegetable oils for meeting the domestic demand and so far it has not reached self-sufficiency. This period will witness steep increase in export of vegetable oils, commercial crops, iron ore, leather products and textiles from India. Retrograde Mercury- Saturn trinal relation ensures the flourishing of Commerce in leaps and bounds within India. This is also due to implementation of GST, removing barriers between inter-state and intra-state commercial activities through uniform Tax structure. During this period, it is most likely that Modi Government will introduce a Bill in Parliament for eradicating corruption in India. Many mega-projects in PPP (Private-Public- Participation) mode will take shape during this period. Tourism Sector as a whole will receive a boost in this year and State Governments will vie with each other in attracting Tourism in their respective States. This year, Government will give top priority to "Agriculture revolution", just like Information Technology is given importance earlier. This will result in many modern farms getting started by big Corporate companies in the next 2 to 3 years.

Uniform Civil Code & Triple Talaq :

The row over the issue of Uniform Civil Code is very high at the concluding part of the year 2016. The All India Muslim Personal Law Board(AIMPLB) is strongly opposing the Code, saying that Muslim personal law is based on divine law and cannot be altered. But the Supreme Court is most likely to give nod to the implementation of Uniform Civil Code in the period from April to June 2017, which will rake-up protests and agitations. It is also likely that "Status-quo" orders may have to be issued by Larger Bench to subside the unrest.


Indian Independence Chart






India was running Saturn Dasa at the time of Independence. At the dawn of 2017, India will be in Moon Dasa Mars bhukti upto February 2017 and then it will continue in Rahu bhukti till the year-end. Bhukti Lord Rahu placed in Ascendant makes agriculture, cattle-rearing and horticulture sectors prosper well with abundant production of Rice, pulses, oil seeds and milk. In this period, visits of foreign dignitaries from Pak, Afghanistan, China and Soviet Union are indicated for resolving sensitive issues and bilateral talks.



Indian Republic Chart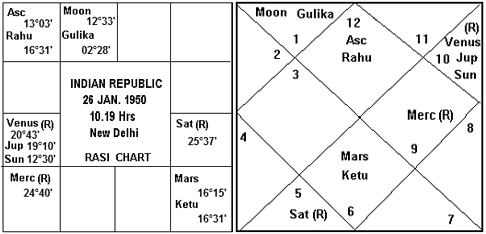 India became Republic in Ketu Dasa and will be running Jupiter Dasa Mercury bhukti at the dawn of the New Year 2017 and will continue for the entire year. This period is exceptionally good for Service Sector and start-up companies, multi-national firms, reforms in Air-Travel benefitting the travelers, etc. This year, new innovations/theories in Physics and Mathematics will be propounded by Indians, which will attract global attention.


Detailed Analysis of New Year 2017 chart


India's economic growth in 2017 will be on par with that of last year, if not better. Service Sector would dominate the Manufacturing Sector. Government would prefer BPOs (Business Process Outsourcing), instead of providing direct employment.
Large-scale inter-caste, inter-religion marriages will occur and marital problems will increase. Number of divorces will increase considerably.
Stock exchange rules and listing agreements will be further tightened to catch hold of fly-by night companies.
Despite best efforts, India will not be in a position to win many laurels in sports and other prime events.
Imminent tussle for protection of land from foreign invasion is indicated.


First House :

This house is fortified by the placement of Jupiter, the lord of 4th and 7th. Good health, prospects, feelings and ways of thinking about objectives and unity among the people of the country are indicated in the ascendant. Stability of Government is also indicated. Jupiter in the ascendant ensures the year to be a "No Scam Year". (Readers may recall that the years 2005 and 1993, wherein Jupiter occupied the rising ascendant are proved to be "No Scam years". The strong Ascendant and 10th house indicate that Government will take very bold steps this year, like bringing back Black-money hoarded clandestinely in Swiss banks. But, this house is afflicted by the 7th aspect of Uranus. Placement of Uranus in the 7th would impact, by and large, intercaste, inter-religion marriages Divorces will happen in large numbers this year. Rift in married life, eccentric behavior of life-partners are some indications affecting the public at large in the year 2017.

Second House :

Money, materials possessions, property, using the past experience and knowledge acquired already for present growth are indicated from this house. Lord of Second house Venus along with arch-rival Mars is posited in the 6th, indicating discouraging factors in the above areas. This is further deteriorated by the fact that neither the second house nor the second lord is receiving any beneficial aspects.

Third House :

The third lord Mars posited in the sixth and the third house occupied by Saturn indicate unfavourable trends with regard to Stock Markets, Transport, Railways, Posts and Telegraphs. Stock exchange rules and listing agreements will be further tightened to catch hold of fly-by-night companies. Also, third house is "Vikrama sthana" (House of Success). Despite best efforts, India will not be in a position to achieve success, owing to the above planetary indication in the matter of Sports or other prime events. The adage "Many a slip between cup and lip" will be felt by Indians in more than one time this year.

Fourth House :

Fourth lord auspicious Jupiter placed in the ascendant gives favorable indications in respect of agriculture, crops, minerals, roads and Highways, scientific projects, educational institutions etc. But it is at the concluding degrees (27:01), which can reduce the benefits by at least 50%. Placement of Sun and Mercury in the fourth house indicates imminent tussle for protection of land from foreign invasion.

Fifth House :

Moon placed in the fifth house ruled by Saturn indicates female births increasing substantially in this year. The "Beti bachao, Beti padhavo" slogan of the Government would become successful. Musicians, cine artists and Bullion market are also governed by this house, indicating fluctuating fortunes by and large. But the aspect of Jupiter would keep a check on the fluctuations. Water sharing disputes between Karnataka & Tamil Nadu, Andhra & Telangana would remain unresolved this year also.

Sixth House :

Venus and Mars, the arch-rivals placed in the sixth, speak ill of the causatives of sixth house viz., internal and external enemies, debt burden, health centres, surgery, labour disputes etc., The 6th lord Saturn will be in retrogression from April to August 2017 in Sagittarius and Scorpio. This period is very much unfavorable with regard to the above issues.

Seventh House :

Lord of 7th placed in the ascendant give positive indications in respect of relations and agreements with other countries, wars, dominating the Opposition parties etc., Uranus stationed in the 7th would dilute the strength to some extent. This year also, planets are not favourable to the Opposition parties.

Eighth House :

Lord of 8th placed in the 6th foretells adversely in respect of Accidents, murders, suicides, agitations against the Govt. etc., As indicated above, Government has to face a number of agitations from the public, in respect of religious intolerance, pro and anti-reservations agitations this year also, resulting in violence and loss of life. Negotiations made by Government in this regard will not yield results.

Nineth House :

Venus, the lord of 9th, though placed in the 6th, receives the aspect of natural benefic Jupiter on the 9th house, getting strength. The issues involving Trustees, religious institutions, religious harmony, Aviation, sophisticated forms of communication, Changes in the Cabinet are known from this house. 9th house is indicating good results regarding the above. Cabinet reshuffle is expected in Mid April 2017, when Venus would become Direct in Pisces or around 10th June 2017 when Jupiter becomes Direct from retrogression.

Tenth House :

This house shows the power of Government and also indicates the President and heads of Governments. Placement of lord of the 10th in an angle and being aspected by its lord makes this house strong. Besides, this house is also being aspected by 12th lord Sun, which is not a good indication. This indicates efforts of Government at Centre trying to destabilize a few State Governments will boomerang.

Eleventh House: :

The eleventh house Cancer is being aspected by its lord Moon, indicating positive results with regard to Parliament, Assembly, gains from friendship, windfall gains, foreign investments etc. Bills passed by Parliament and Assemblies for the welfare of the public would receive overwhelming response from people. Modi would continue his efforts in attracting Foreign Direct Investment this year also, which will yield fruits in a significant manner.
In the write-up 'Dawn of 2016' in EST Jan. 2016, this scribe predicted (on 11th house predictions) that the much-awaited Bill on Disclosure of Black Money will be passed in 2016. This came true in the year 2016 itself. This became statute as "Chapter IX of the Finance Act 2016—Income Declaration Scheme 2016". This scheme has received good response and is expected to bring large revenues to exchequer.

Eleventh House: :

Lord of 12th, Sun placed in the 4th gives adverse indications with regard to the causatives of it i.e., jails and their officials, ashrams, orphanages, secret enemies, Black-marketers, vehicle thieves, anti-social elements etc., Moreover, the aspect of Saturn on the 12th house would give further complications. Hoarding and Black marketing of essential commodities will be on the rise in this year. Prices of Iron and Steel, pulses, Gingelly and other vegetable oils will shoot-up, during the retrogression of Saturn.

GST Implementation :

As predicted by this scribe in "Dawn of 2016" the GST Bill was passed by Parliament and the assent of 50% of State legislatures was also obtained, paving the way for implementation of the same from April 2017.

The planetary position at the sun-rise time of April 2017 is examined, to test the success of GST implementation all over the country. Rising sign is Pisces. Venus placed in it is exalted but retrograde, and is conjunct with Sun. Second house Aries is fortified with the placement of Mars, Seventh house by Jupiter and Tenth house by Saturn.

Because of placement of Sun in the ascendant, with mutual aspect of Retrograde Jupiter, prices will rise abnormally with the implementation of GST for the first three to four months, resulting in unrest in trade and consumer circles. But this will subside gradually with the availment of input benefit by trade circles, resulting in reduction of prices.



Horoscope of Narendra Modi :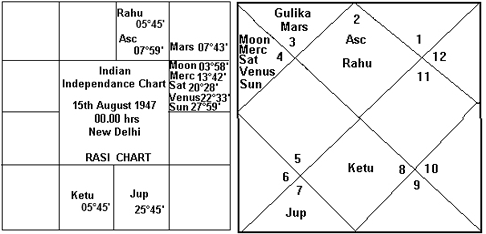 The Ascendant lord Venus is in the 11th in its own constellation Purvaphalguni, aspected by 3rd and 6th lord Jupiter. Presently Modi is in Moon Dasa, Jupiter bhukti, upto Dec.2016 and thereafter in Saturn bhukti till the end of the year. Moon, as the lord of 11th placed in an upachya, house, elevated him to the coveted post of Prime Minister. The bhukti lords Jupiter and Saturn are placed well, giving strength to Dasa lord. 2017 will be the best to Mr.Modi, in respect of international reputation, success, public support etc., He will take bold steps in economic front this year, which will enhance his image further.

* The online payment is for overseases customers only
In India:




EXPRESS STARTELLER



The Manager
Express Estates, Club House Rd.,
Mount Road, Chennai - 600002



Phone :

+(91)-(44)-28460245
+(91)-(44)-28460245 / 28460517



E-mail :

contact@starteller.com

In USA:




EXPRESS STARTELLER



C/o Ritu Goenka
PO Box 970
Chimacum
WA 98325



E-mail :

ritukerr@yahoo.com