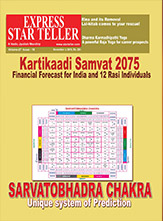 Understand the past.. Be more aware of the present.. Prepare for what's next...

Tarotscope 2018 will give you insight into different areas of your life over the next 12 months .


Aries 2018

(21 March - 19 April)

Keywords : Reflection, Harmony & Acclaim.
The revitalizing force of transition will sweep away old to make way for the new. Stay on track as you have an incredible journey ahead of you.

Career :

Career challenges will give you the power and determination to work extra hard and flush out any anomalies that need your attention. Don't jump the gun on projects you are involved with, as some of the pieces might be missing; so be patient. In the second half of the year, your professional life will get a boost, as several opportunities for expansions and to move forward are foreseen. Hold the right cards and don't hesitate to take on new responsibilities or accept an unexpected offer.

Wealth :

Sudden financial challenges in the first half of the year will force you to go back to basics and get rid of unnecessary expenses. Someone will try to manipulate your investment choices; be careful what you agree to. In the last quarter of the year you will have opportunities to diversify or increase your wealth. Look for projects and business opportunities with solid foundations.

Home :

On the domestic front,take care not to rock the boat; it might just capsize and create tensions. Your steadfastness, combined with tact, will help you to restore balance. Good news will help family unite and help in building strong bridges for the times ahead.

Love :

A seismic shift will occur in your love-life this year. Circumstances with your partner could be more complex, than you are willing to accept. Getting the right balance between emotion and logic will help you see the scenario more accurately. Singles will have new encounters on a Silver platter that could lead to longterm developments, if you don't let the chance slip by.

Health :

Listen to the wisdom of your body. You will undergo a complete reversal in your ideas, regarding a long-term health problem. Try a new approach, or research Alternative treatment and therapy. Guard against self -destructive activities that ruin your health and undermine your sense of well- being.

Cosmo Tip :

Keep a Dalmatian Jasper crystal with you, to turn your dream ideas into actuality.

Angel's Message :

"

Observe, evaluate and make enquiries, before forming a conclusion.

"



TAURUS 2018 :

(20 April - 20 May)

Keywords : Contemplation, Renewal & Awakening.
A "wake up and smell the coffee" year . Stay flexible and keep your wits about you, as you may find that events begin to unfold in surprisingly beneficial ways.

Career :

On career-front, a promotion, an encounter, or a change of some kind will lead you to make a radical reassessment of your professional situation.When taking the lead on projects or in group situations, make sure that you are respectful of other people's conservative perspectives. You might need to put a hold on some projects, in order to devote more time to important ones. Towards the second half of the year, good opportunities will present itself.

Wealth :

Your plans for saving and investing money will temporarily come to a halt, forcing you to seek alternatives. Someone may coerce you towards tempting investments. In the last quarter of the year, a wonderful financial opportunity will help you, to ameliorate your financial position in a perfect way.

Home :

Troubles in the family may have you toying with the idea of moving or at least making some changes in your household. Someone close to you might not have been honest with you, and will make you feel a bit down. Avoid getting confrontational.

Love:

Relationships will take a productive turn this year, as you will begin to examine the purpose and function behind your relationships.Singles need to face their fears and cut through the non-essentials to discover an abundance of new possibilities.

Health :

Your health takes a dramatic turn for the better, be alert and capitalize on it by correcting bad dietary and lifestyle habits. You might have vulnerable nervous system, so when tired or not well, take it easy and slow down.

Cosmo Tip :

Wear A Lapiz Lazuli bracelet on your Left hand, to get yourself noticed in a positive way.

Angel's Message :

Move through your fears to bring on change.



GEMINI 2018 :

(21 May - 21 June)

Keywords : Skill, Opportunity & Wisdom
Your old life will crumble and fade to make space for a new reality of your choice. There are many benefits waiting for you, go out and find them.

Career :

New elements will come to the fore in your work environment, but lack of clarity might make you feel insecure about the success of your venture. You could become overly defensive of your beliefs and ideas at the workplace. Towards the spring months, airtight and glowing credentials will precede you. Promotions and beneficial transfer of power is foreseen towards the mid-year.

Wealth :

The financial darkness you had been facing will suddenly illuminate, and you will be able to see your way clearly. Innovative changes in your investment portfolio will be well rewarded towards the third quarter. Getting an impartial and experienced third party involved, will help in fighting the financial wrongs you might be facing.

Home :

On the domestic front, you will not be entirely on the same wavelength as your loved ones. Squabbles and disagreements might pop up with some family members. If you are concerned with a sale of a home or property, an offer will be made and accepted, and it will be sold.

Love :

Tensions will escalate between you and your partner as you could have different ideas about a shared situation or arrangement. Be willing to lose some ground to reach a compromise. Singles need to head out to places where you have chances to meet new people .

Health :

Stress and strain are on the cards . Stay calm and patient to regain strength of mind and body. Complications might arise, so stay alert about your health.

Cosmo Tip :

Wear an Orthoceras pendant, to promote career/ business success.

Angel's Message :

Get ready for key changes in your external and internal worlds.



CANCER:

(22 June 22 - July)

Keywords : Advice ,Optimism & Diplomacy
The windows of opportunity will open wide this year. Delight in the bounty that begins to appear in surprising forms.

Career :

You will be able to see hidden elements in your environment, and will have the awareness and understanding to turn any situation to your best advantage. A new business proposal towards the Summer months will come to the fore that will ease financial tension and inject a new life into the situation. You might get discouraged about an idea or a project, but it will get straightened out with a new approach. You might get caught in crossfires at workplace. Strike a cordial balance with authorities and peers.

Wealth :

On the financial realm, it will be essential to build stability, before taking things to the next level, to avoid nasty surprises. You might be susceptible to bad advice that could steer you towards bad investments. Fiscal matters will be on the front burner, as your desire to possess expensive things, will put a hole in your budget. Choose wisely before making any major purchases.

Home :

Surprising revelation might cause your living situation to change dramatically. These changes will move you towards a more stable domestic arrangement that will give you the sense of freedom to seek new opportunities. Personal relationships can get complicated due to outside influences.

Love :

Control, manipulation or issues of power will be dominant in a relationship.Rather than stubbornly trying to gain an advantage seek a win-win situation. Singles will have the ability to manifest their love relationships, so make sure that you are clear about what you desire.

Health :

You will gain valuable perspective and insight on how to heal health challenges. Get a second opinion and explore Alternative therapies outside established medicine.

Cosmo Tip :

Wear or Keep Amazonite Crystal, to be in the right place at right time for new opportunities.

Angel's Message :

Expand your ability, to communicate through postures and eye contact.



2018 :

(23 July - 22 August)

Keywords : Strength, Spontaneity & Wise counsel
The stars are aligned in your favor and Fortune is smiling on you this year!

Career :

This year highlights new beginnings on the career-front. If you have been holding off change in your professional life, now is the time to move forward with confidence and initiative.A delayed project will move forward towards Spring months, but not in the way you expected. Those in business will have the enthusiasm and determination to capture new markets and clients.

Wealth :

On the financial front, remove the dead wood from your investment portfolio. Explore what you might need to let go off, in order to make way for new opportunities. Safe investments will fill your coffers slowly, but steadily without risk towards last quarter.

Home :

On the domestic front, you will need to make a decision or a choice; weigh all your options carefully and consider what is best for everyone involved before you move forward.Your loved ones will bring you some moments to treasure provided you shrug off your reserve and take an enthusiastic approach.

Love :

On the relationship front, circumstances with your partner might be more complex than you are ready to accept. Try not to allow determination to make your point shift to stubbornness. Be open to your partner's concern, as a potentially helpful exchange needs to be a two way street. Singles might feel pressured by cultural or family traditions. Tap into your own truth to make relationship decisions.

Health :

Your health will be generally fine but you may go through some bumpy spots; an upset stomach , a tight neck, or minor problems with your knees. Listen to the wisdom of the body as these are a call from your inner self to pay attention.

Cosmo Tip :

Keep a Yellow Fluorite crystal, to attract cooperation and harmony.

Angel's Message :

Your fortune may be dormant, but will be revealed to you when you least expect it.



VIRGO 2018 :

(23 August - 22 September)

Keywords : Visualization, Will-power & Inspiration.
A grand transformation will help you slide into a new life that will be brimming with possibilities. Determine what is worth keeping and what needs to be discarded.

Career :

On the career-front, focus on your goals , in order to create a clear picture of what you want to accomplish and then go for it. Towards the last quarter, new information concerning your work will change your perspective and cause you to look at things in a brighter light. Keep your working relationship unruffled, so that your goodwill remains intact. For self- employed, your decisive mood will help in resolving misunderstandings and clear the decks for new projects towards the year end.

Wealth :

Sit tight with regard to your investments, as this is not a good time to attempt major financial changes. Good financial organization and following the rules will be the best way forward. Towards the last quarter, through structured and careful negotiations, you will be able to gain excellent monetary gains.

Home:

You need to muster up your strength to either recover from a loss or gear up for a big change. Work hard to maintain your sense of hope, otherwise fear may make you lash out in ways that hurt you or those you love. By establishing a little order in your home and workplace, you'll be surprised at how easily authority comes.

Love :

It will be a decision time, as relationship will go through a tense and a bumpy period. If there is an issue that needs confrontation, don't sweep it under the rug, as it will again get dragged back out into the open. Be direct, but not destructive. Singles will vacillate in their search for a partner. Focus on what you want and then evaluate your choices.

Health :

An accretion of small irritants might affect your immune system, resulting in cold, sore throat or fatigue. By toning down the stress levels and learning to deal with your problems , your health will rebound.

Cosmo Tip :

Keep a Green Aventurine in your Home/office, to attract good luck.

Angel's Message :

Blend into your surroundings, to ward off confrontations that are not beneficial .



LIBRA 2018 :

(23 September - 23 October)

Keywords : Choices, Prosperity & Renewal.
Sweep away the old stuff so that a spring breeze can flow through with new energy. Make room for the miracles that are lining up for you.

Career :

Opportunities and rewards will come up suddenly, so stay on your toes to keep up. Have a new approach that will be more relevant to the market you serve. Towards the second half of the year, your work will attract rave reviews helping you to attract more lucrative assignments. Self - employed will attract a lucrative project that will require focused and detailed effort.

Wealth :

On the financial front, budget management will be needed to maintain a stable financial position. A major expense might suddenly show up, that will send you scrambling for ways to cover it. Towards the second half of the year, a series of welcome breaks will help the money to pour in.

Home :

On the domestic front, the transition from one phase to another will be difficult and fraught with tension and anxiety. Find the middle ground that allows the relationship to flourish while honoring the individuality of the family members.

Love :

Relationships will be under intense scrutiny. Let your partner know that you're open to compromise, but feel free to push your own agenda. For singles, doing some research before approaching a potential suitor, will give you the upper hand and the control you desire.

Health :

You will feel energetic for major part of the first quarter but from the second quarter your health may start to decline. Take occasional rests and give yourself time to re-energize and rejuvenate.

Cosmo Tip :

Wear a Kyanite pendant, to sharpen communication skills.

Angel's Message :

You have abundance of ideas and this is a good time to cultivate them.



SCORPIO 2018 :

(24 October - 21 November)

Keywords : Happiness, New Direction & Triumph
The universe is bringing you a gift, showing you that you're hitting your mark. Own the life you want to lead, and live deliberately, with clarity and detachment.

Career :

Someone important will secretly test you. Pressure could come from certain quarters for you to accept more responsibility; be careful, as shouldering more responsibility will compromise your efforts in other areas. A colleague or a co -worker might challenge your vision; see it as a blessing and you will refine your creative process with brilliant reasoning. You might net an award or special praise for the past work towards the mid year.

Wealth :

Expansive investment possibilities will present themselves; pay attention to the information and act accordingly. Flexibility will be important, as you might face an unusual shift in your finances, that will send you in a direction you had not planned. Towards the second half of the year, a new enterprise will yield profits leading to sudden improvements in your financial affairs.

Home :

On the domestic front, tension could be evident. Be wary, when judging others around, as it might have serious repercussions in your relationships at home. Someone in your family might not be ready to cope with a situation.

Love :

Rushed decisions and actions will tend to push your partner away from you. Open discussions about your differences and complaints will help you reach happy compromise. Singles need to be careful, before getting too deeply involved; get to know the person before committing.

Health :

You will have a firm resolve to strengthen your health .Avoid multitasking, which will make you feel pressured and distracted. Examine your daily habits to improve your quest of a strong mind and body.

Cosmo Tip :

Keep or wear an Aquamarine crystal, to attract positive feedback.

Angel's Message :

Use your skills, vision and speed, to pursue what you really want in life .



SAGITTARIUS 2018 :

(22 November - 21 Decem ber)

Keywords : Structure, Evaluation & Patience.
A year of new experiences that will test your courage. Adjust yourself to the conditions that you have no control over, and balance will come much more easily.

Career :

On the career front, your work will reach new heights of excellence, impressing your superiors.Unreasonable expectations from colleagues can put you in a difficult position. For self- employed, working within a well- defined structure will empower you to calculate all your options and make the best choices.

Wealth :

High expenses will make you more creative about finding funds you need. A sudden change in your cash-flow will be a catalyst that will prompt you to re-assess your financial aspect. Unsolicited advice from a reliable source may mislead you regarding investments. Protect yourself by following your own instincts. A working partnership can get complicated. Financial front will become more bright towards mid-year as previous investments will bring handsome returns.

Home :

Connecting current events with those of the past can be useful, as you dig into family matters. Tensionswill pull you in various directions on the domestic-front, but you will possess the composure that will enable you to move gracefully through any unexpected challenges.

Love :

Certain events will reveal a flaw in your current relationship; diligently working through it, will enable you to prevent it from becoming serious. Singles may miss appropriate partnerships, because they might place themselves in mismatched relationships,

Health :

Certain turmoils in your life might take a heavy toll on your general health and nervous strength. Find ways to replenish your energy levels, with recreational activities.

Cosmo Tip :

Keep an Iron Pyrite crystal, to make wise financial decisions.

Angel's Message :

There are many possibilities, the key is to be clever enough to find them.



CAPRICORN 2018 :

(22 Decem ber - 19 January)

Keywords : Cooperation, Rationality & Learning
This Year unexpected reversals will cause you to shift directions. Be open as the nurturing power of the universe is giving you a nudge in the right direction.

Career :

On the career-front, matters will develop suddenly, making you feel inspired , creative as well as challenged. There could be obstacle or difference of opinion between you and a superior concerning the work direction.Towards the second half of the year, work development or a new opportunity will have you punching the air with delight. For those in business, keep the business plan or product under wraps and stay strong and sharp for the right opportune time to unveil the promising concept.

Wealth :

Seeking funds or financial favors might become a source of financial discomfort or discontent, so keep a contingency plan in hand. Financial arena will glow brilliantly towards the mid –year, as a substantial sum of money will come to you as an increase in your income or as gift of loan.

Home :

The moods and the behavior of certain family members could be volatile and inconsistent. Be the anchor to your loved ones as they need some stability now. A new lease of life will be found and the difficulties will begin to fade towards the second half of the year.

Love :

Establishing a new set of rules or boundaries in your relationships will be a priority this year. Singles may be drawn to someone who challenges and excites them intellectually; hold your ground and you'll be admired.

Health :

Anxiety and stress will cause to pent up pressure, so keep an eye on your stress levels and stay mentally strong. Daily exercises will help to bring your physical and mental energy into balance.

Cosmo Tip :

Keep Orange Selentite crystal palm stone with you, to encourage flexibility.

Angel's Message :

Remain focussed and use the energy carefully while making strides towards your goals.



AQUARIUS 2018 :

(20 January - 18 February)

Keywords : Intuition, Commitment & Wholeness
This year forgive, release, and move forward. Spin a balanced future that includes your biggest dreams.

Career :

Strict prioritizing might be needed to move a dream or a cherished goal higher up in your priority list. Your determination to keeping your nose to the grind stone could be overlooked as someone else receives the lion's share of praises and attention. Keep calm and carry on with your integral part to success, as your plan will surely be recognized. In the third quarter of the year, fortunate circumstances will suddenly light up your work arena opening major new professional doors for you.

Wealth :

There could be sudden and numerous demands on your income. Financial plans will need reassessing and revising as an investment project might prove costlier than you anticipated. Examine your motives before finalizing the deal ,and steer clear of excessive expenditures that could jeopardize your long term fiscal stability.

Home :

Domestic issues will grab your attention this year. Radical actions will help you create new routines at home. Your emotional insecurities will help tempt you to criticize your loved ones' plans. Use caution while communicating, as your words could become harsh creating complications in your personal interactions.

Love :

Shared visions in a relationship will get altered due to change in relationship dynamics. Avoid being stubborn and issuing ultimatums- Focus on respecting your partner rather than charming them. Singles need to open their heart and be aware of the romantic possibilities knocking at their door.

Health :

You will have immense energy levels this year. However, diet and exercising needs to be consistent, to avoid troubles later on, through the year. Stomach problems might plague you; so be careful of what you eat.

Angel's Message :

Awaken to new possibilities that will create harmony in your life.

Cosmo Tip :

Keep Moss Agate crystal with you, to draw in new business or projects.



PISCES 2018 :

(19 February - 20March)

Keywords : Equilibrium, Security & Renewal.
Release your old ideas and embrace a necessary change so that you can live your best life. Step aside and relinquish any attachment to how this new creation should appear.

Career :

On the career-front, rapid changes will give you a new inspiration to move in the correct direction. Review viable plans, and shake off those any that lack details. In the second half of the year, you will uncover a Gold-mine in a project; playing your cards right will help you achieve professional distinction. Those in business will need to do some professional networking, in order to capitalize on cutting-edge trends and leverage untapped markets.

Wealth :

Get rid of investments that have not clicked and have proved disappointing and unproductive. You have to closely look at your budget, specifically where you have been spending money on luxury items that might not be necessary. Towards the second quarter of the year, all your efforts will come into the limelight, that will make your cash register to ring.

Home :

On the home-front, it will be essential to pull the proverbial belt and knuckle down to some domestic reality. If there are things that need to be discussed with a family member, you will have the assertion, as well as the care to get to the bottom of a situation and purge it clean of old hurts.

Love :

Drawing your partner into your inner conflicts will make situation more complex. Keep your head above water and be each other's strength.Singles will long for a commitment, but be careful of diving into a less than ideal relationship.

Health :

On the health-front, you might try to let go of an addiction or take a serious stance with your diet. You need to see the hard truth and delve to the core of the problem, so that you can purge which no longer serves you and transform your health.

Cosmo Tip :

Wear a Turquoise Pendant, to attract success and fame.

Angel's Message :

Remain keen and silent observation to aid you in tricky situations.



* The online payment is for overseases customers only
In India:




EXPRESS STARTELLER



The Manager
Express Estates, Club House Rd.,
Mount Road, Chennai - 600002



Phone :

+(91)-(44)-28460245
+(91)-(44)-28460245 / 28460517



E-mail :

contact@starteller.com