First unearth your life's purpose and then accomplish it
Dr. R.L. Rajah in conversation with Hemamalini Raghunathan
"When on an Regression, the sub-conscious mind divulges much more about the client's life;
based on the findings, the client is given a full de-brief of the goals/purposes; then considering
what the client is keen to accomplish, the Life Coaching starts with a very clear building
blocks and time-lines. This module gives a very clear understanding to the client and makes it
easy to go after the goals and life's purpose, both short and long term. Students and Corporate
executives find this module very effective and less time-consuming."

Are you wondering how can you unearth your life's purpose? Some do wonder. Of course, some are very capable of doing that all by themselves. However, nowadays, many methods are available to really 'unearth' your hidden ambition. One such tool is 'Hypno Life Coaching' developed by Dr. R.L. Rajah, of
'Heal n Hale' Spiritual Healing Centre. He specializes in Hypno/Regression / Past Life therapies and Life Coaching.
Dr. R.L. Rajah (email:rajahrl@gmail.com; mobile:07299901255) is a Certified Member of IMDHA, Laceyville, Pennsylvania, USA. First he did his B.A. in Sociology and then the Senior Executive Program with London Business School. He has served in senior positions with the UB Group, Diageo PLC and Whyte and Mackay, before he took up the profession of Life Coach. Here Dr. R.L. Rajah (www.healnhale.com) explains the modalities of his profession.

Dr. R.L. Rajah
How did you get interest in this sort of profession? How did you get trained?
I found that Allopathy was just giving relief for many diseases, but also in the process creating major side-effects. The disease kept coming back to many, but the cure was always eluding them. Friends of mine who switched over to Alternative therapies were all happy with the outcome, which made me start looking at alternative medicines for my own self. When I found it amazing, I decided to become a therapist myself. My journey started in 2007, in terms of learning process and now I am a Full-time Therapist. I started with Pranic Healing and then moved on to Hypno/Regression therapy, Body/SuJok Acupuncture, Bach flower medicines and Life Coaching. Also in our Centre, we read Angel and Tarot Cards.

Based on the experiences with my clients and also a great understanding from the end-results of the therapies with the clients, I have developed a new tool, combining Hypno Therapy and Life Coaching, and aptly named it 'Hypno-Life Coaching'. The difference between Life Coaching and Hypno Life Coaching is that in Life coaching you cull out
information from the seeker on an open conversation basis, whereas in Hypno-Life Coaching, the same is done on the regression mode of the Client. Students and Corporate executives find this module very effective and less time-consuming. Also seeding the sub-conscious mind does all the necessary spadework, which makes the client feel at ease and hungry to accomplish the goals/life purpose. I also do sessions on Skype. When working with Corporates, I get a clear understanding on the Company's goals, figures out whether the goals are aligned with the employees and start the session from this point.

Life Coaching is all about bridging the gap between where you are currently and where you want to reach. As a Life Coach, it's an one on one conversation with the Coachee and all his goals are culled out; based on the short and long term, a list is prepared and the coach takes over from there and help the Coachee with building blocks and clear timeframes, to achieve these goals. He handholds the Coachee till the goals are accomplished. The Coach wears different hats, as per the need of the hour (Manager-Mentor and Sports Coach).

What is Hypno Life Coaching? What is its special advantage?
In Hypno Life Coaching, the Coachee is put on a trance and his goals are then culled out by awakening his Sub-Conscious Mind. This also helps the Coachee to find out more about himself and his life purposes while in trance, as the Sub-conscious Mind is the 'know all'. Rest of the process is the same.

How do you regress a patient?
In Regression therapy, I follow two methods. In the first method, the client is induced to a sleep-mode, where his conscious mind is put in to rest and subconscious mind is awakened to go on a Regression. Different techniques used are Staircase, Rapid Eye Movement technique, Counting down, Breath-work, Pendulum technique to name a few. In the second method, the clients are given Command technique to Regress straight (those who have done PG diploma can only do this). The thumb rule of Regression therapy is that 'for every physiological issue, the root cause is psychological'. When the client is on a Regression, the therapist looks out for trigger points of the issue that the client had come down for therapy and make the client to release the same. In simple term, it is 're-living is releasing'. The therapist is on a complete vigil, looking out for the actual trigger point. However, please be assured that your past life will never come back to haunt you.

Is Hynotizing involved during Regression therapy?
Hypnosis means 'state of induced sleep'. In Hypno/ Regression therapy, we don't hypnotize people. This is a complete misconception. By just using suggestibility, we put the client on a trance. The clients are in a trance-sleep mode, but not in a sleep mode. They will remember, after they are brought back to 'here and now'. Most of the clients remember almost every thing. But this doesn't work for people, who do not believe in this kind of therapies. This is for believers only.

Explain your therapy-sessions with casestudies.

Case Study 1.

Issue: Sleeplessness while flying, even if its long hauls. (It is not fear of flying).

Client is a globe-trotter and works for a huge MNC.

Client's contract with the therapist: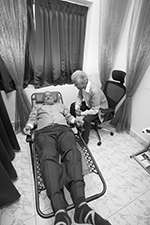 Client in Trance during Therapy session In his own words: 'Whenever I take a flight, whether it is one hour or 17 hours, I find it impossible to doze off! Many a times, after a hectic day, I had taken the flight, but still can't just sleep. I tried a few drinks, but that also didn't help. This is despite travelling in cozy Business-class suites. I had consulted many doctors, but they just gave sleeping pills, but no effect at all. Please make me to sleep"

So, for me, the therapist, it was just simple 'make me sleep'.
As a therapist, one of the forbidden thing that is enshrined in our heart is 'not judgmental' and 'non-prescriptive'.

So with this understanding, the client was put into Trance. It took some time for the client to get into a Trance, due to high anxiety. This was sorted out and the client went into a trance.

On the first session, it was just exploration and what came out was different things and not this issue. Those triggers were sorted out and when the client came out of his Trance, he was all smiles, but the main issue was yet to be resolved.

The client wanted the next session the very next day. In the next session which was on the following day, the client went in to his Trance immediately and was very receptive to all the suggestions and it was a wonderful smooth-sailing for him. He went in to his past life, immediately and started narrating that life, right from his young age and his passion about becoming a fighter pilot! The mode changed to his commandeering a fighter aircraft and suddenly the aircraft crashes and the client becomes breathless! This was his immediate past life, and from there he reincarnated to this current life.
The trigger point was identified and therapy was given.

Client was also made to fast-forward his life and experience a long haul flight, from Mumbai to New York. In that journey, client not only enjoyed his flight, but also fell asleep!!!

This Future-forecasting helped the client immensely and in the last two years, the client is having a great flying experience, with proper sleep and mood!

Case Study 2:

Issue : Frozen shoulder and motor-movement completely gone; turning around is just impossible.
Client is an IT professional and lives in Chennai.
Client's contract with the therapist:

In his own words: "I have been suffering with this issue for the past 10 years and there is nothing left untried by me. Right from Allopathy to Darn Therapy to everything; but after a few days, it comes back with a vengeance. Please make me to Turn Around like a normal human being"

The pain was so excruciating for the client that, I have to position him to a proper bed, instead of the Easy-chair at my Center.

The client had no problem getting into a Trance and in the very first regression, was his past life. I am not elaborating on this, as it is irrelevant here, as the cause of the frozen shoulder was not from this life. He also regressed to his immediate past life and again the trigger was not in that life.

As the Trance was working out so well, I decided to continue the session and he went into one of the episodes, where he started recounting his worst day in the current life. It was his father's death and the father's body was on the floor. The client became inconsolable and tears were just oozing out of his eyes. His dad was everything for him and a real role model and Godfather literally. He was in the drawling room of his apartment, where his father's body was laid for visitors to pay obeisance. He was looking down at his father's dead body and suddenly he felt heaviness in his neck and could not move his neck any more. BINGO!!!! The Trigger point!!!

Therapy was done and the client was made to Fastforward, where he was able to move his neck freely and the client was brought in to his consciousness. The client kept his Spectacles on the top right side of the bed and when he was awakened, he moved his neck and right hand and picked up the Spectacles and put that on. Within a couple of seconds, he realized what he just accomplished and there was absolute JOY in his face, when he got up and then started rolling his neck!!!
He is currently leading a mirthful and great life!!!

What do you want to convey our readers?

Apart from Hypno/regression therapy, we also practice Advanced Pranic Healing in our Centre along with Body/SuJok Acupuncture, Bach Flower therapy and Card reading. Body and SuJok Acupuncture are excellent modalities for those, who are having major health issues, such as vertigo, sinus, migraine, joint pains, spondylosis, frozen shoulders, sciatica, varicose veins, Parkinson's, rheumatoid arthritis, asthma, PCOD et al. We even treat Diabetes and Hypertension at our Centre successfully. We have done excessive research on 'seeds' and use them in our therapy. In many cases, we have figured out that Alternative therapies compliment Allopathy medicines and the recovery is faster.

From my experience and my clients, Alternative therapy helps people to overcome their physiological and psychological issues without any 'side-effects'. Educated and trained therapists like us at 'Heal n Hale', ensure safety; hygiene is given top priority and the treatment plan is 'custom-made'. We spend lots of time with the client during consultation, to clearly understand the issues faced by them and arrive at the modalities of therapy. As EST reader, please be assured that Alternative therapies give amazing results, provided you have full faith in them and also do choose your therapist, after verifying their credentials.


* The online payment is for overseases customers only
In India:




EXPRESS STARTELLER



The Manager
Express Estates, Club House Rd.,
Mount Road, Chennai - 600002



Phone :

+(91)-(44)-28460245
+(91)-(44)-28460245 / 28460517



E-mail :

contact@starteller.com