Worship Lord Vishnu and get rid of Navagraha Doshas!


By Hemamalini Raghunathan
Seek refuge in the Lord's feet! Not only that Navagrahas would not harm you, but also you will attain salvation! In Vaishnavism, the Act of Saranagati or Prapatti has six divisions :

Promise to yourself to do only those things that please God.
Refrain from doing those things that are not permitted in Sastras.
Accept Lord with total faith, as the only Protector.
Understand the enormous glory of the Lord, who sustains the Universe at all times.
Surrender every thing to Lord, without any misgivings.
Cultivate absolute humility, because of your helplessness to protect yourself on your own. Lord is the only Protector.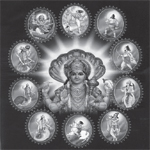 Lord Maha Vishnu : Dasavatar
VAISHNAVAITES (devotees of Lord Vishnu) worship only Lord Maha Vishnu and the associated deities of Nithyasuries, Alwars and Gurus like Sri Ramanujacharya. They believe that by worshipping Lord Narayana, one can easily get the blessing of Navagrahas also, as the Lord of all the Navagrahas is Lord Maha Vishnu Himself.

Separate Navagraha shrine is not seen generally inside Vaishnava temples, which are constructed based on Vaikanasa and Panjaratra Agama Sastras. Among 108 Divya Desam temples, one temple has a separate shrine for Navagrahas, i.e. in Sri Koodal Azhagar Perumal temple in Madurai, Tamil Nadu.



Dasavatar for Navagraha remedy

One of the reputed Acharyas of Sri Vaishnavas, H.H.Sri Tridandi Chinna Jeeyar Swami says thus: "Each Navagraha has one incarnation of Lord Vishnu as their in-dweller. So, if one worships that Avatar, the particular Graha-santhi gets done.

Sun - Lord Rama;
Moon- Lord Krishna;
Mars - Lord Nrusimha;
Mercury - Lord Venkateswara, Lord Kalki;
Jupiter - Sri Vamana;
Venus - Parasurama, Goddess Lakshmi;
Saturn - Lord Kurma (Sri Kurman temple, in A.P);
Rahu - Lord Varaha;
Ketu - Lord Mathsya

Chanting of Sri Vishnu Sahasranama and Dasavatara stothras are recommended, as these include Lord's all avatars.
Apart from the above, many devotees in general believe that many Vaishnava temples are also associated with Navagraha remedies.

Here are the list of Vishnu temples, located around Kumbakonam and Thanjavur, that are associated with remedies for Navagrahas: (The above-mentioned area is very well known for Saivaite Navagraha parihara temples)

Sun – Sri Sarangapani temple, Kumbakonam
Moon – Sri Naadan Kovil, Thirunandipura Vinnagaram.
Mars – Nachiar Kovil, Thirunaraiyur
Mercury– Valvil Ramar Kovil, Thirupullam boothangudi
Jupiter – Andallakummiyyan, Thiruaadhanoor
Venus - Kolavilli Ramar Kovil, Thiruvelliyankudi
Saturn – Oppiliappan Kovil, Thiruvinnagaram
Rahu – Gajendra Varadan Kovil, Thirukavithalam
Ketu – Jagat Rakshakan Kovil, Thirukudaloor

As per popular belief, there are many Divya-desams, which are associated with different planets.

Srirangam : Venus. Worship Lord Ranganatha and the Goddess Sri Ranganeyaki on Fridays.
Kanchipuram : Jupiter. Worship Lord Varadharaja Swamy on Thursdays

Thirumala : Saturn. Worship Lord Srinivasa on Saturdays. This Lord is said to be associated with Moon also. So worship Him on Mondays.
Tirumalirumcholai : Moon. Worship Lord Azhagar.
Srivilliputtur : Mars. Also Sri Parthasarathy temple at Thiruvellikeni, Chennai is said to be Kuja-sthala.
Thirukkannapuram: Mercury. Worship Sri Sowriraja Perumal on Wednesdays.
Melkote : Ketu. Worship Thiru Narayana Perumal
Thiruchenkunoor,
Thiruvananthapuram (Kerala) – Rahu-Ketu pariharasthala. Worship Lord Anantha padmanabha Swamy.

Around Thirunelveli, Tamil Nadu, also, Navagraha parihara sthalas are marked in Vaishnavaite temples.

Various manifestations of Nrusimha Avatar Himself are associated with planets :

Sun – Bhargava Nrusimha
Moon - Karanja Nrusimha
Mars – Jwala Nrusimha
Mercury – Pavana Nrusimha
Jupiter – Ahobila Nrusimha
Venus – Malola Nrusimha
Saturn – Yogananda Nrusimha
Rahu – Varaha (kroda) Nrusimha
Ketu – Kshatravata Nrusimha

Reference: www.ramanuja.org
http://anudinam.org




* The online payment is for overseases customers only
In India:




EXPRESS STARTELLER



The Manager
Express Estates, Club House Rd.,
Mount Road, Chennai - 600002



Phone :

+(91)-(44)-28460245
+(91)-(44)-28460245 / 28460517



E-mail :

contact@starteller.com

In USA:




EXPRESS STARTELLER



C/o Ritu Goenka
PO Box 970
Chimacum
WA 98325



E-mail :

ritukerr@yahoo.com