Year 2017 begins with an exchange of signs between natural malefic planets Saturn and Mars in Scorpio and Aquarius respectively. The Natural Zodiac heralds the year, hosting a perfect 3-11 axis between Saturn and Jupiter, placed in Scorpio and Virgo at 27 0 respectively. Venus begins it journey in the company of Mars in the malefic sign Aquarius.
Unearthing of scandals
Venus is a planet of celebrities, women of high stature, sex, passions, and pleasures. Its conjunction with Mars in Aquarius will make January eventful, as the Saturnowned sign is a symbol of scandals and unethical activity. (Aquarius stands for dry places, liquor manufacturing, bars, wine shops and gambling dens).

2017 may start off with unearthing of sexual scandals, involving individuals of high society. Venus becomes more passionate, emboldened by the vicinity of Ketu and Mars in Aquarius. On 12 Jan, Venus at 150 in Aquarius will attain greatest eastern elongation of 470 from Sun,making it visible to the naked eye. This only means exposure of scandals involving celebrities, popular leaders and famous women. January will therefore unearth hidden truths, shocking the world. Association of Venus, Mars and Ketu in the 11th sign Aquarius, 6th to 6th of the Natural Zodiac with no benefic aspect, also indicates possibility of destructive terror attacks at pleasure points, entertainment places and gambling spots. In the early hours of 20 Jan the two natural malefic planets Mars and Saturn would be exactly squaring each other from their malefic signs Scorpio and Aquarius at 290 in an exchange. While Scorpio stands for destruction of life and properties representing the 8th sign of the natural zodiac, Aquarius stands for enemy in the context of 6th to 6th sign. And the terrorists are the enemies of the world.

The world may therefore hear some news of major terror attack between 9 Jan and 20 Jan.. In any case, the disturbing events may also happen on or before 27 Jan, when Saturn moves into benefic sign Sagittarius.
Spiritual wars
The 3-11 relation between spiritual planets Saturn (in Scorpio) and (in Virgo) Jupiter indicates trouble between spiritual teachers (Pontiffs) or conflict between religious Mutts, as the axis is very bad. The adverse axis is formed, in their inimical 8h and 6th signs respectively of the Natural Zodiac. This may also lead to spiritual personalities, Mutts and religious Gurus finding their names in scandals or facing serious allegations, before Saturn moves into Sagittarius on 27 Jan. A verbal war may erupt between highly respected religious Mutts of India, as the country is branded spiritual.
Saturnís entry into Sagittarius
Major event of the celestial dramas unfolding in 2017 is the accelerated entry of Saturn into Sagittarius on ??27 Jan. With this, Saturn enters into a phase of destruction, as it passes through the four signs of Samhara Khanda of the Natural Zodiac from then on; Sagittarius, Capricorn, Aquarius and Pisces.
[Aries to Cancer is Srishti Khanda (creation), Leo to Scorpio Sthithi Khanda (Maintenance) and, Sagittarius to Pisces Samhara Khanda (destruction)].

From 27 Jan till 2 Feb and again from 21 Feb to 1 March, seven planets- Sun, Moon, Mars, Mercury, Venus, Saturn and Ketu-will occupy the destructive parts of the Zodiac. This is an indication that major destruction of property and human life is imminent, in the shape of a terrific natural calamity.

A close examination reveals that on 28 Feb, two natural malefic planets Saturn and Mars will take control of the destructive part of the Natural Zodiac, with five other planets Sun, Moon, Mercury, Venus and Ketu getting sandwiched between the two. It is not a sheer coincidence that you will find Saturn at 20 plus in Sagittarius, the first sign of Samhara Khanda and Mars at almost 290 in Pisces, its last sign.

Rahu and benefic planet Jupiter, in Leo and Virgo respectively, would be kept out of this rare phenomenon. But Jupiter will find itself the weakest, by losing one quarter of its strength in retrogression in Virgo, while receiving the 10th aspect of a powerful Saturn from Sagittarius on this day.

Jupiter in Virgo, despite being retrograde, continues to lose strength beginning 21 Feb and would be at its lowest strength on 28 Feb. After this date, Jupiter continues to pick up strength, but it would still be running short of its normal strength for a few days. Jupiter is therefore helpless in preventing any natural disaster on Earth. Jupiter is considered God among planets, as it has the capacity to prevent any loss of life and property. Its weakness gives an upper hand to Saturn and Mars to have their way.

Saturnís third aspect covers Sun, Mercury and Ketu in Aquarius, while Rahu throws its aspect on Saturn. Saturn also establishes powerful relationship with Mars, as the two planets square each other from Sagittarius and Pisces respectively.

Of the other two natural benefic planets, exalted Venus would be afflicted in the company of Mars; Mercury gets combust in Aquarius. Moon becomes weaker in Pisces, as it would be within 720 of distance from Sun.(Moon becomes weak if it is within a distance of 720 on either side of Sun). As a result, natural malefic planets will have an upper hand in the Zodiac, exercising their influence on Earth resulting in major catastrophes.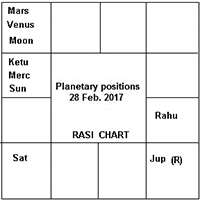 The catastrophe may strike in the shape of earthquakes, tsunamis or any other natural disaster leading to destruction of human life on a massive scale between 27 Jan and 2 Feb or between 21 Feb and 1 March, but most probably on Feb 28.

Following is the chart containing planetary positions on 28 Feb 2017.

Such a calamity could be man-made also, for the simple reason that Sagittarius is a place of arms, ammunition, and defense preparedness, deployment of forces, military strategies and war-room discussions, with the great malefic Saturn occupying it.
Saturn under malefic influence of Rahu and Mars
Retrograde Saturn moves back into Scorpio on 21 June, gains Direct motion on Aug 25 and will re-enter Sagittarius on 26 Oct. This means retrograde Saturn will have a stop-gap sojourn in Scorpio for more than four months from 21 June till 26 Oct.

During its short sojourn in Scorpio, Saturn will throw its 10th aspect on Rahu in Leo, till the shadowy planet moves into Cancer on 18 Aug. (Mean Transit) From thereon, Rahu throws its 5th aspect on Saturn in Scorpio till 26 Oct. Saturn too continues to influence Rahu through its Ďretrograde 10th aspectí till 25 Aug. During this period, either Saturn will influence Rahu or Rahu will influence Saturn. Apart from that, these two planets would be under mutual aspect for a week from Aug 18.(Saturn Retrograde aspect from Scorpio and Mean Rahuís 5th aspect from Cancer).

Simultaneously, Mars in Leo too will influence Saturn in Scorpio through its 4th aspect from 27 Aug till 14 Oct, when it moves into Virgo. Saturn in Scorpio would therefore be under the malefic influence of both Rahu and Mars, from 27 Aug till 14 Oct.
(On 09 Sept., Rahu (True) also moves to Cancer).
The implications are very clear. Rahu, a planet of rebellion, indicates unrest and upheaval. While Saturn is a planet of people and democracy, Scorpio stands for sudden violence and destruction. Cancer expresses public life, as it is the fourth sign of the Natural Zodiac. Presence of these two planets in Watery signs is indicative of Island nations. Presence of Mars in fiery sign Leo is indicative of bloodshed. It is therefore imperative that bloodshed, violence, rebellion, bloody coups and upheaval may take place in any Island country, between Aug 27 and Oct 14.
Jupiter enters market place Libra
On Sept 12, Jupiter will enter Libra, a market place indicating business, share trading, business transactions, trade agreements and pricing policies and would be squared by both Rahu and Ketu for the rest of the year.

Jupiterís entry into Libra is indicative of the booming of share and Gold markets. Both the markets will continue to flourish till the entry of Mars into Libra on 30 Nov. Just four days before the entry of Mars into Libra, Venus, the lord of Taurus and Libra, moves into the destructive sign Scorpio.(Scorpio stands for destruction and violence as the 8th sign of the Zodiac).

From 30 Nov to 20 Dec, Mars and Venus will be in mutual exchange of signs is Scorpio and Libra. Venus is the lord of second and seventh signs of the Natural Zodiac and indicates share market wealth of the country. Seventh sign Libra is tenth to tenth sign that stands for big business. So, presence of destructive planet Mars in the market place Libra, and the Libra lord Venus in destructive sign Scorpio would lead to destruction (a sudden collapse) of Share markets across the world.

This may happen between Nov 30 and Dec 20, most probably after 11 Dec, when business planet Mercury comes back to the destructive sign Scorpio in retrograde motion, but before 16 Dec, when the Fiery planet Sun leaves Scorpio to enter Sagittarius. All the while, Rahu throws its destructive aspect on Venus, Mercury and Sun in destructive sign Scorpio, making the collapse of the Share and Gold markets imminent.
Celestial events at a glance in 2017
(Planetary dispositions are marked according to the respective Dates of the month)
January
11: Full Moon with a wonderful Gajakesari yoga
20: Mars enters Pisces.
27: Saturn moves into Sagittarius, Venus enters Pisces


February
3: Mercury enters Capricorn 6: Jupiter gets Retrograde in Virgo
11: Penumbral Lunar eclipse
22: Mercury moves into Aquarius
26: Annular Solar eclipse


March
1: Mars moves into Aries
4: Venus Retrogression in Pisces
10: Mercury enters Pisces
27: Mercury steps into Aries
4 - 31: Jupiter in Virgo will oppose Venus in Pisces


April
6: Saturn becomes Retrograde in Sagittarius
10: Mercury becomes Retrograde in Aries
13: Mars moves into Taurus
10 -14: Jupiter, Venus, Mercury and Saturn in Retrogression
15: Venus becomes Direct in Pisces


May
2-28: Sun, Mars, Mercury, Ketu and Venus will occupy Lunar part
(Lunar part of the zodiac consists of six signs from Aquarius to Caner clockwise).
4: Mercury becomes Direct in Aries
27: Mars enters Gemini
27-30: Mars and Mercury in exchange of signs (Aries and Gemini)
28-30: Mars, Jupiter, Saturn and Venus would square each other from Common signs of the Zodiac
30: Seven planets will form beautiful Grahamalika Yoga from Aquarius to Leo
31: Venus enters Aries, comes under Rahuís 9th aspect.


June
3: Mercury enters Taurus.
19: Mercury moves into Gemini
21: Retrograde Saturn moves back into Scorpio, throws aspect on Rahu
24 -25: Mars, Mercury, Sun and Moon will receive Ketuís 5th aspect
30: Venus moves into own sign Taurus


July
3-4: Eight planets form Grahamalika Yoga from Taurus to Libra clockwise
3: Mercury moves into Cancer
12: Mars moves into Cancer
22: Mercury enters Leo
27: Venus enters Gemini


August
7: Partial Lunar Eclipse
13: Mercury becomes Retrograde in Leo.
18: (Mean) Rahu enters Cancer, throws aspect on Saturn
18: Ketu moves into Capricorn
21: Venus joins Mars and Rahu in Cancer.
21: Total Solar Eclipse
25: Saturn assumes Direct journey in Scorpio
27: Mars enters Leo, throws its 4th aspect on Saturn


September
5: Mercury becomes Direct in Leo
9:Rahu (True) and Ketu move to Cancer and Capricorn respectively.
12: Jupiter enters Libra
15: Venus moves into Leo
18: Kalasarpa yoga begins
27: Mercury moves into own sign Virgo


October
10: Venus enters debilitation sign Virgo
13: Mercury moves into Libra.
14: Mars moves into Virgo
26: Saturn re-enters Sagittarius, goes under mutual aspect with Mars
28: Kalasarpa Yoga breaks


November
2: Mercury moves into Scorpio
2: Venus moves into own sign Libra
24: Mercury moves into Sagittarius
26: Venus steps into Scorpio
26-27: Grahamalika Yoga with eight planets from Virgo to Aquarius
30: Mars enters Libra, to give company to Jupiter


December
3: Mercury goes Retrograde in Sagittarius
8-21: Kalasarpa Yoga
11: Mercury moves back into Scorpio
13 -19: Seven planets will occupy three signs in row from Libra.
20: Venus enters Sagittarius
23: Mercury becomes Direct in Scorpio
31: Moon is found in exaltation sign Taurus.