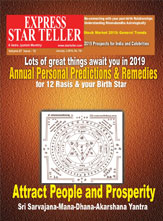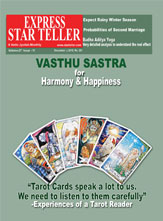 Dawn of New Year 2018
By Dr.Ch.D.Ravindra Nath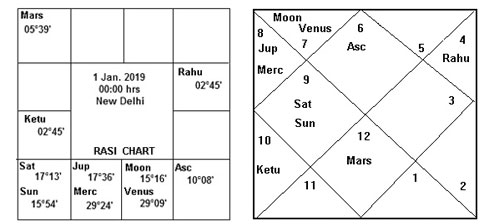 VIRGO ascendant is rising at the Dawn of New Year 2018. Ascendant lord as well as 10th lord Mercury is placed in the 3rdand deprived of any benefic aspects. This indicates imminent tussle for protection of land from neighbours.
This is a year of new positive developments in the areas concerning judicial system, religion, diplomats, foreign missions, imports and exports, foreign exchange, students, immigration and long distance communication, legal profession, higher education, science and media.
7th lord Jupiter joining with Mars became strong indicating opposition gaining some strength this year. But it may not be in a position to challenge the Ruling party. Ninth lord Moon exalted in Moola-Trikona indicates religious harmony, changes in Central Cabinet atleast two times in this year.
Jupiter's placement in the second indicates that Government will give Tax rebates and cut the Tax percentage for the benefit of the people, to boost economy. India will gain name, fame, honour and recognition from abroad. The nation's influence on the world and the world's opinion of it will be positively increased. But there will be problems with leaders of lowcastes.
They are likely to create problems to Government, making allegations against upper castes. Incidents of lower-caste people criticizing and ridiculing the upper-castes will be a common phenomena.
GDP growth rate :

Due to high fluctuations in exchange rate, waiver of agricultural loans, cold response to Disclosure of Black money Scheme by the public and practical difficulties in implementation of GST resulted in the decline of GDP growth rate. Despite many odds, India's GDP growth remained at 7.1% during the financial 2016-17. Due to the roll out of Goods and Services Tax and some lingering impacts of demonetization, most experts see a rebound ahead and the economy will show less than 7% growth in the year 2018. (The Economic Times).Astrologically, ascendant and 10th lord Mercury placed adversely in the 3rd indicates reduction in GDP growth in the year 2018. However, India would continue to be the fastestgrowing major economy.

First House :

Health of the people of the country, people in general, welfare of the country, administration, unity among the public, progress of the states and success of the country and its leaders are indicated here. Ascendant lord placed in the third, being aspected by enemy Moon denotes mixed results in respect of first house indications. People in general would suffer with seasonal aliments, water-borne diseases. Aspect of Saturn on the ascendant would make the citizens sick in general. The Government at the Centre seems to be getting weaker and the public criticism of the Government will be a common phenomena. In brief, the first house is not strong.

Second House :

Financial position of the country, business, banking, receipts and payments, Taxes, expenditure on establishment, recoveries, State resources etc., are covered by the second house. Placement of Mars and Jupiter in the 2nd indicates that people in general would become accustomed to luxurious life, adversely affecting their saving potential. Devoid of any beneficial aspects, the second house also is not indicating any encouraging results. Money, material possessions, property, using past experience and knowledge acquired already for present growth are indicated from this house. Lord of Second house, Venus, along with arch-rival Mars is posited in the 6th, which is indicating discouraging events in the above areas. This is further deteriorated by the fact that neither the second house nor the second lord is receiving any beneficial aspects. Tough time to financial institutions including RBI. They are likely to be criticized in a big way. There will be a quixotic change in family relations. Cases of men and women living together without marital bond will increase in large numbers.

Third House :

Its significations are Transport, Motors and Railway, Posts and Telegraph, stock markets, writers, poets, educational institutions, information, newspapers. Monthly magazines and anti-social elements. Placement of Mercury, a fast-moving planet here, being aspected by Moon is giving strength to third house in all respects. Press and media would get recognition befitting, to their talents. People with journalistic flair will flourish more this year. One of our Journalists will receive international recognition this year.


India enters into New Year 2018, while ascendant Virgo is rising and its lord as well as 10th lord Mercury is placed in the 3rddeprived of any benefic aspects. This indicates imminent tussle for protection of land from neighbours. This is a year of new positive developments in the areas concerning judicial system, religion, diplomats, foreign missions, imports and exports, foreign exchange, students, immigration and long distance communication, legal profession, higher education, science and media.7th lord Jupiter joining with Mars becomes strong, indicating the Opposition gaining strength this year. But it may not be in a position to challenge the Ruling party. Ninth lord Moon exalted in Moola-trikona indicates religious harmony, changes in Central Cabinet atleast two times in this year. India will gain name, fame, honour and recognition from abroad. The nation's influence on the world and the world's opinion of it will be positively changed. India's earnings of foreign exchange by sale of marine products will be more this year.


Fourth House :

Agriculture, crops, clouds, minerals, housing, land reforms, roads and highways are governed by the fourth house. Fourth lord Jupiter placed in the second indicates that the standard of living of people in general will go up this year. People of India will be comfortable. India is likely to extend its territories further. In other words, gain of land to India is indicated. Rainfall will be good, though not sumptuous. Implementation of Housing Schemes as a Social Welfare Scheme will be implemented by majority of State Governments.

Fifth House :

Circus, Cine theatres, musicians, dancers, cine industry, schools and students, education and training, births and deaths of children, prices and bullion market are indicated here. Fifth lord Saturn placed in the fourth indicates that the citizens of india in general will behave decently and lead a dignified way of life. The average level of intelligence of Indians will be more this year. Indians will make new revelations in Science and Technology. India's efforts to make Super Computer under 'made in India brand' will be successful this year. Efforts of ISRO in Space Research and Satellite building will become successful as usual this year also.

Sixth House :

Its significations are Health centres, epidemics, diseases, prevention and control, public health, health services, surgery, navy, labour problems and resolution, State service units and foreign aid. This house is not indicating favourable results. Labour unrest, epidemic and endemic diseases, failure of many surgeries, inability of the Police to provide protection in time to public are indicated. People in general will be quarrelsome; regional, language, caste, creed and sect differences will be blown out of proportions and people will be seriously involved in this.

Seventh House :

Its significations are Relations and agreements with other countries, war, agitations, disputes, marriage institution, hostile atmosphere, Police Department, Strength of Opposition, troubles to Government/ruling party in power.7th lord Jupiter placed in the 2nd and joined with friendly planet Mars indicates favorable results in respect of the above. The fact that 7th lord is more powerful than the ascendant lord indicate Opposition is likely to gain some public support and may brighten up their chances in State Assembly elections to be held this year, but it will not be in a position to challenge the Ruling Party.

Eighth House :

Its mundane significations are Accidents, murders, suicides,defence, agitations against the Government and loans from other countries. Eighth lord has become weak by placement in the second, but with the joining of Jupiter, it got more strength indicating mixed results. Agitations against the Government, both in Centre and States, will be held in good number. But these will be under control. Accidental deaths also will be more this year. Defence will prove its mettle now.

Nineth House :

Its significations are Legal advice, advocates, legal experts,, Court, Litigations, trustees, religious advisors, endowments department, business dealings with other states, scientists, aviation, changes in the cabinet.Nineth house lord Moon placed in own house fortifies it. Favorable results in respect of all the above are indicated. With too much strength, 9th lord Moon may cause changes in the Central Cabinet a number of times.

Tenth House :

Its significations are King (President), Government officials and their welfare, felicitations, societies, Army, Navy and Air Forces, Taxes, receipts and banks. 10th lord in 3rd indicates Government authorities will be diplomatic and talkative. Not withstanding their bureaucratic temperament, they seem to be courteous and possess knack in their dayto- day office routine. Tax collections will be awfully good and Governments will be with surplus funds, enabling them to go for various subsidies and social welfare measures.

Eleventh House: :

Its significations are Parliament (Lower House), Assemblies, gains from the friendship, foreign investment and aid. 11th lord in the 9th and the 11th house stationed by Rahu indicate that people in general will be traditional, respecting their own customs and religions. Favorable indications are more for the issues governed by the 11th house. India is likely to get unexpected gains and Indians in general will feel the same.

Twelfth house :

Jails and their officials, health centers, ashrams, service centers, religious institutions, orphanages, old age homes, murders, foreign invasions, terrorist activities, secret enemies, spies, black marketeers, vehicle thieves, antisocial elements and those who sue the Government are governed by 12th house. The lord of 12th placed in the 4th and devoid of any beneficial aspects is giving negative indications. Hoarding, Black-marketing will increase. Dubious Ashrams and Babas will have their sway on the public this year too.


Indian Independence Chart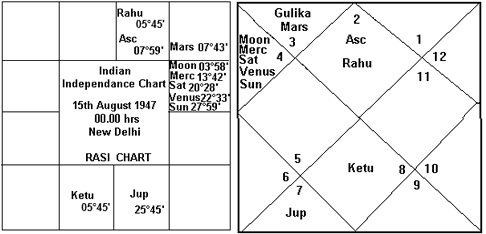 India did face a lot of problems in health, education, social, economy and other sectors. But as a Nation, we managed fantastically. This is the beauty of "Pravajya yoga" in the third house. India has come up on its own without the help of anybody. Our neighbour Pakistan got independence along with us and is always looking towards other countries for its survival, whereas we have been self-reliant, right from the beginning. No wonder a Nation that could not make a needle when it got freedom has mesmerized the world, by sending more than 100 satellites into space,
At the time of the Formation of the Independent Nation, Taurus lagna was rising on the eastern horizon and Rahu is placed in it. All the seven planets of this chart are on the left side of the Rahu-Ketu axis. India was running Saturn dasa at the time of independence. India had suffered the evil effect of Kala-Sarpa dosha for many years.Five planets – Sun, Saturn, Venus, Mercury, Moon – are placed in the third house. When more than two planets are involved in a Raja yoga, then they shed their inherent inimical qualities and start giving good results.

Mars has occupied the second house and Jupiter is placed in the sixth house, which is splendid. There is a first-rate fifth-ninth connection between these two naturally friendly planets. They give wonderful results, despite a thousand and one odds against them.There is bound to be struggle in the beginning and that struggle lasted for long. This is due to Sun and Saturn together in the Cancer sign. The Sun may be comfortable to an extent in this sign, but Saturn being a cruel planet is not happy in his lesser enemy sign of Moon and absolutely defiant with the Sun.

At the dawn of 2018, as per Independence chart, India will be in Moon dasa Rahu Bhukthi upto August 2018 and will continue in Jupiter bhukthi till the year-end. The Dasal lord Moon represents the mind and the mind always remains young. That is the basic reason that new innovative ideas can always pop up from anybody, whether young or old.Luckily, India is a young country in the world, with more than 70 per cent of its population comprising young and active minds. Our PM Narendra Modi is trying to remind us and the world that we are the young Nation, which has the capacity to give a new direction to the world. It is noted that the Moon has occupied the third house in the Independence chart and its mahadasa of 10 years is in operation. The third house represents neighbours. Right from its inception, India's neighbours have been creating problems. Soon after independence in 1947, India was forced to enter into a war with Pakistan, over the Kashmir issue and the same pattern is continuing even now.

In Moon's mahadasa, Pakistan has accelerated its terrorist activities at the border and terrorists have caused damage in other areas also. Of late, China is creating problems and Dolkam has become a bone of contention between the two countries. The India- China border has become quite sensitive in the last few months and 'real peace' does not seem to be in sight in the future. Hence, Moon Dasa Rahu bhukthi is a tough time to India with regard to relations with Pakistan, China and other neighboring countries upto Aug.2018.


In 2018, prices of construction material such as Cement, Iron and Wood will increase considerably, giving adverse impact on the Real Estate sector.
Gold prices, by and large, would remain stable.
There will not be much wide fluctuations in Sensex. It will increase steadily.
Not a very good time at the Sports-front to India.
Government has to face labour-unrest severely this year.
Rahu and GST :
The Modi government launched the GST at the stroke of midnight on June 30, 2017. Presently India is running Moon Dasa Rahu bhukthi upto Aug.2018. It is general observation that natives(India) in the realm of Rahu feel like they are in web, feeling exhausted without reaching anywhere. This is the situation India is facing at present.Also, as we know in astrology, Rahu gives illusions, which are inter-mingled within themselves in such a way that confusion keeps on mystifying further and further.

If the Moon and Rahu are affecting us as citizens, then one wonders that they must also be confusing our rulers, who come out with strange policies. It is difficult to blame anybody, because when the Moon and Rahu are in operation, then everybody seems right and has a good reason to prove his point and win the game in his or their favour.

Already, there is a growing unrest in trade, commerce and business circles, apart from general public on haphazard implementation of GST. Hence, I apprehend Government will face too many bottlenecks, obstructions and hindrances in the implementation of the same. Probably the Govt may have to pronounce number of exemptions, extension of deadlines for filing of various statutory forms and also relaxation from many penal provisions to avoid public wrath. Really, implementation of GST will become a tough task to Modi's Government.


Eclipses :
Solar Eclipses : The first Solar eclipse occurs on 15 Feb. 2018(Partial) in South America, Pacific, Atlantic and Antarctica. Not visible in India. The second Solar eclipse occurs on 13 July 2018(Partial) and this is visible inAusralia, Pacific and Indian ocean. The solar eclipses will not have any bearing on the prospects of India.

Lunar eclipse by Rahu : On 31 Jan. 2018 Wednesday, the eclipse occurs from 05.17 PM to 08.41 PM. This should not be viewed by the natives of Aslesha birth star (falling in Cancer sign). This will result in severe public unrest, untimely rains, floods, loss of human life in drowning, decisions taken by Government getting widespread criticism, danger to women and children more frequently.

On 27 July 2018, Moon will be eclipsed by Ketu from 11.54 PM to 02.43 AM the next day. This should not be viewed by Uttarashada and Sravana birth star natives, falling in Sagittarius and Capricorn signs. This lunar eclipse would increase the domestic feuds, disputes and differences between various States over sharing of water, sharing of common properties prior to separation, land disputes, disrespect to women and many epidemics spreading uncontrollably.


Retrograde Planets :
Two major planets Jupiter and Saturn remain in retrogression from 17th April 10th July. This period will have many positive developments in Science and Technology, Success in launching of satellites, increase in export of leather, iron and textlies from India, reforms in air travel to the benefit of general public are indicated. During this period, major mishap in air traffic is indicated.

Three planets Mars, Saturn and Mercury will be in Retrogression from July 28th to Aug.18th. Murky dealings in defence, aircraft, coal and Steel sectorsare likely to surface. Opposition will have the chance to level allegations. People in high places in Educational institutions will be targeted and their image will be tarnished. Labour unrest and rebellion of lower castes are very much indicated. Prices of petroleum products in India will become cheaper because of retrogration of three planets in this year. Cost of construction material like Steel, Cement and wood will become costly foretelling trouble to Real estate sector.

Three planets Mars, Jupiter and Saturn will be in Retrogration from 27th June to July 10th. Enthusiasm of the youth in general will be very low. In sportsfront, India will not shine well in this period. Political leaders at the helm of affairs will have to face many allegations. Instances of dubious financial institutions swindling away the hard-earned money of the public comes to surface now. People in general will be very much dissatisfied with the Government. Tourism sector will flourish well in this year.
Chart of Indian Republic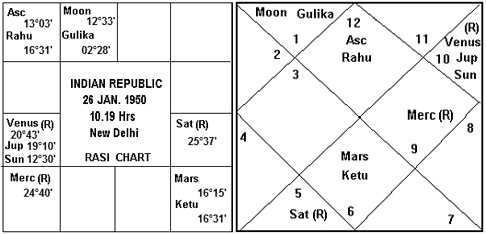 India became Republic in Ketu dasa and will be running Jupiter dasa Mercury bhukthi at the dawn of the year 2018 and will continue up to 26th May 2018. Afterwards, the bhukthi of Ketu will be in operation for the rest of the year The period upto May is very much favorable for Trade, commerce and foreign exchange dealings. Good number of start-up companies will see their birght future in this period. Also, companies of international repute would start their trading with India. New innovations/theories in Atomic science, Astro-physics, Environmental science will be propounded by our scientists, which will attract global attention. In Ketu bhukthi, demands of State Governments for increased share in GST and for funding of their popular schemes will create problems to Modi Government.

General Elections in 2018?
Assembly elections to 7 States are due in the year out of whom major states are Gujarat, Himachal Pradesh and Karnataka. Also many other States need to gear-up for their Assembly polls in the year 2019. General Elections are actually due in the year 2019. To avoid elections a number of times and also to avoid wasteful expenditure, Modi is reported to be contemplating to conduct State elections also along with general elections. In such case, will the year be a year of general elections? India, so far has conducted General Elections 16 times, the latest one was held in 2014. Out of the above, irrespective of the reasons behind them, the following elections were held in advance (quite ahead of due date) and termed as Mid-term polls :

5th General Elections held in 1971 - Indira Gandhi broke away from Congress and conducted elections. 7th General Elections held in 1980 - Janata Party failure resulted in this election.
Rest of the elections were held in time, except the 6th one, where Indira postponed it, for one year under the guise of Emergency.
For the purpose of my analysis, I have considered the planetary position at the Dawn of respective years i.e., 1971, 1980 etc., to test whether the traces of planetary combination of premature elections is appearing in Dawn of 2018 for advancement of General Elections in 2018.

Major planetary combinations at the dawn of the year, when elections were held prematurely:

Jupiter is joined with Rahu or Ketu or placed in angles or trines with them.
Mars and Saturn either joined or in angles or trine to each, but never in upachayas to each other.
Venus joining most of the times with Ketu (1984, 1999) or Rahu (1991) or placed at a distance of only 2 houses with them(nodes),
Manah Karaka Moon and Ruling planet of democracy Saturn stationed together or in a distance of only 2 houses.

The above characteristics are lagging in the planetary combination depicted at the dawn of 2018. Hence, Modi may not be going to advance the General Elections due in 2019. The Elections to Sate Governments which fall due in 2018 will be held as usual.




* The online payment is for overseases customers only
In India:




EXPRESS STARTELLER



The Manager
Express Estates, Club House Rd.,
Mount Road, Chennai - 600002



Phone :

+(91)-(44)-28460245
+(91)-(44)-28460245 / 28460517



E-mail :

contact@starteller.com