Dawn of New Year 2019
By Dr.Ch.D.Ravindra Nath

The year 2019 begins in Virgo ascendant. Nodes have attained Vargottama strength this year. Vargottama Rahu in the 3rd, 6th, or 11th is said to be Arishta Nashaka (destroyer of adversity). Black money is the chief peril to our economy. Rahu's placement in the 11th (Labhasthana) is likely to result in Modi'seffort to bring back clandestinely-parked Black money in Swiss Bank.This is going to create an uproar in the first three months of 2019.
Mars and Saturn are giving their beneficial aspects to the Virgo ascendant. Since they are placed in auspicious houses from natal Moon (not in Vedha), their aspects got purified. With this, the ascendant is fortified, resulting in positive indications of the causatives of the ascendant. Also, Mars and Jupiter have exchanged of the houses and attained positional strength. Last year, India overtook France as the 6th biggest economy, in terms of GDP. In 2019, India is expected to grow at 7.8 per cent, leaving its nearest rival China behind at 6.4 percent, the IMF said.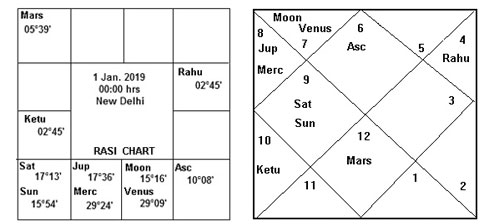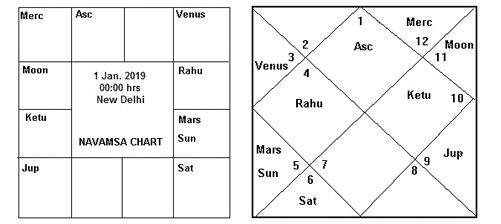 In the year 2018, India overtook France as the 6th biggest economy, as per the World Bank Report (India Today July 11, 2018 updated 14:07IST).The World Bank reported that India has become the 5th biggest economy in terms of GDP. The reforms introduced by Modi Government revived Indian economy that was slowing down for the past few quarters.
India is expected to grow at 7.8 per cent in 2019, leaving its nearest rival China behind at 6.4 percent, the IMF said. (www.firstpost.com 23.07.2018).
Black money is the chief peril to our economy. The money parked by Indians in Swiss Banks rose to a high of Rs. 7,000 crore. India and Switzerland signed an agreement to disclose all Tax-related transactions from January 2018 onwards.  Second house lord Venus placed comfortably in own house  and being aspected by Mars  along with Labha- sthana placement of Rahu indicate that Government at Centre will make concrete efforts to bring back clandestinely-deposited Black money in Swiss banks. This is Modi's second surge on Black money.  This is going to create an uproar in the first three months of the year 2019. Apart from this, Modi is likely to take several other measures to unearth unaccounted money in various forms and bring it back into the main stream.
Vargottama Rahu and Ketu carry all the qualities of giving Yogakaraka results. However, the degree of success and achievement varies according to the quality of the spring-board of other planetary, Rasi and Navamsa influences.  Vargottama Rahu and Ketu show a silver lining to India in the shape of stability to Government, international recognition, name and fame and  great success with minimal effort. The combination of own house-placed Venus with beneficial Moon in the 2nd house is likely to result in catching hold of swindlers of public money and defaulters like Neerav Modi and Vijay Mallya.  Hence, it is going to be a tough time for people of such dubious intentions.

First House: Health, physical comforts, energy, conduct, way of thinking, interests, hobbys etc come under this house. This house is receiving the 7th aspect of Mars and the 10th aspect of Saturn. Both Mars and Saturn are placed in the house of Jupiter and are free from Vedha.Hence their angular aspects turn out to be mixed. Health of the public, welfare of the people in general, administration, Unity among the public, feelings and thinking of the public as a whole are indicating positive results.  But Mars' aspect increase domestic feuds in families, male domination and female suffocation. Cases of domestic violence will increase in number.  However with regard to  Stability of the Government,  progress of the States, success of the country in general and  charisma of its leaders as indicated from the 1st house are showing beneficial results.

Second House: All financial aspects come under this house. Cash, goods, earning, income, inherited property, business dealings, sales and purchase, value of goods, quality, gifts, expenditure, accounts of income and expenditure, expected money and to be paid money will be indicated from this house. Religion and belief in God, Philosophy, Obedience, stable mind, Soft speech, Efforts to acquire money, Avarice in money matters can also be analyzed here.  Second house lord Venus placed in own house with Moon and being aspected by Mars indicate that unaccounted money parked clandestinely in Swiss banks will be brought into Tax-net successfully by the Government. As predicted by this scribe in 'Dawn of New Year 2018' (Page 38), Government has many times reduced Tax rates and gave exemptions and relaxations in GST structure.  In July 2018, the GST committee once again reduced Tax on 88 commodities and kept in abeyance the operation of reverse charge mechanism upto Sep.2018.  Same thing is going to continue in the year 2019 also, giving relief to GST assesses.  But it is worth noting that despite drastic reduction of GST rates in the year 2019, the Tax collections will increase leaps and bounds, because of strong 2nd house.

Third House:  Wars, Soldiers, Division of Property, Profit, Self-study, People at nearby places, messages, letters, writing, printing and publications, speeches, transmissions, mediation, short trips, agencies, healthy body, Servant maids, Ornaments, advertisements, Transport, Railways, Posts and Telegraph Stock markets etc., can be known from this house. Jupiter in 3rd indicate people in general will be rigid in their thinking and uncompromising during this year. Mercury also joining in the 3rd house indicates wisdom will prevail on the people and they give unwavering mandate in the coming elections. 3rd house lord placed in 7th would make people, by and large, affected by vices and Govt-officials would act mercilessly.

Fourth House: Education, Government, Place of residence, Voyage,  immovable propery, caste, Trustworthiness, Calm thinking, father's fame, Handling money, sculptures, digging of wells, Good diet, deceitful nature,  daily needs, agricultural land, native place, food materials, household goods, functions in the house, courteous behavior with others are indicated from this house. Saturn and Sun placed together in 4th house makes people preferring simple living and moving towards charitable activities in a big manner. But there is a danger of caste-war, and clashes on the basis of sons of the soil theory, and rude behavior of some people in mass media. Communal clashes will be more this year.

Fifth House: Children, their needs, education, students, love and affection, attachments, friendships creativity, discretion, wisdom skills, teaching, fine arts, father's sanctity, means of earning, knowledge in music, sports, speculation, races, giving shape to a thought, executive ability, authority and administration, patronage, nutrition, patronage, inherited ministership and Gynaecology are covered in this house.  5th lord placed in the 4th indicates people, in general, will be wise and they follow sane advices. Since 5th house is being aspected by the Labhasthana-placed Rahu, this is a good time for political heirs. Many political heirs, who depend on the charisma of their elders, will romp home in the general elections of 2019. Also a Bollywood celebrity will receive award for his contribution to the tinsel world.  Indians will get international recognition for new inventions, revelations and ISRO will scale new heights in Satellite lauching.

Sixth House: Ill Health, wealth on account of conflict, Enemy's joy, Poison, pain, Diabetics, Impeachment, Defame, Eye diseases, Imprisonment, comforts, food, work, exercise, physical beauty, cleanliness, physique, medical treatment, handicrafts, vocational training and education, medicines, rearing animals, birds and pets, dairy, servants, workers and industries can be known from this house.6th house lord placed in the 4th would make people impatient, restless and with full of mutual hatred. Entry into vocational training and  medical education will become complicated and tough. NEET examination this year will be criticized by many and will be subjected to a lot of confusion.  Admissions to various prestigious academic institutions in India will be marked with allegations of leakage of papers, corruption charges etc., resulting in intervention of Courts. Railway and Postal  Staff are likely to go on strike this year.Labour unrest will be more this year and employees coming into streets for better pay and perks will happen during the period of Retrogression of Saturn, from May to September 2019. The Sastashtaka (6/8) position of Mars with Moon and Venus is the cause for the above outcome.

Seventh House: Institution of marriage, adultery, loss of life partner, partnership, joint ventures, love and affection, political and business relationships, meetings, competitors, rivalry, separation, divorce, arrangements, agreements, indiscipline, private parts, delicious food are indicated by this house.7th house lord Jupiter placed in the 3rd and aspecting the 7th house indicates that the main opposition Congress, though not in a winning position, will increase its tally considerably and become a strong force to reckon-with, in the ensuing General elections. Joint ventures will succeed.  This year is right for many love affairs resulting into wedlocks.  People in general will behave responsibly in a disciplined manner.

Eighth House: Others' money, public funds, hidden money or unearned or unaccounted wealth, inheritance, loans, life insurance, pension, gratuity, compensation, gifts, damaged and second hand machinery, intervention in other's matters, sexually transmitted diseases, sales and purchases, kidney trouble, longevity, laziness, handicapped, death sentence, unstable mind   and piles disease etc are significations of this house.  This year 8th lord is placed in the 7th, indicating that persons doing gobble's propaganda will flourish well. People will be gullible and they will easily believe the persons with gift of the gab, who can prove utter falsehood as universal reality.  Natural calamities like earthquakes, floods and also fire accidents will occur more this year. This is because of long period of retrogression of Jupiter and Saturn  (this year from April to September).  These are joined with deadly enemies at the time of dawn of 2019.

Nineth House: Higher education, professional courses, scientific research, teaching, publications, Universities, Courts, legislatures, temples, pilgrimage, honours through education, all-round wealth, Vedic sacrifices, charity,  politics, spiritual and religious issues, scientific seminars, long distance travels exports and imports can be known from this house. 9th lord placed in the 2ndalong with Moon would give encouraging results, in respect of all the above.  The Apex court would give land mark judgements, putting end to many controversies. It is very likely that one international religious conference will be held in India, to which many Head of Governments also will attend. Religious harmony will prevail all through this year.

Tenth House: Status, respect and honours, Authority and Power, relations with the Government, influential people, political affairs, public meetings, business, Government houses, horse riding, Government transportation, medicines, influence in Government, Supremacy, Intelligence etc., are the Karakatwas of this house.  10th lord placed in the 3rd indicates that people will be jovial this year, with a lot of self-respect and good moral character. Corruption in Govt. offices will reduce substantially. Government will earn good name with neat and tidy transportation (Metro Rail). Many meritorious Indians will be honoured with highest international awards in India and abroad this year.

Eleventh house: Friends, Unions, clubs, companies, corporatons, political parties, Panchayatsamithis, Cooperative societies, groups and group activities, federations, wind fall gains, legislative business, Property acquired from Grand father, Profits through Fatherinlaw, Elder brother, Paternal uncle are causatives of this house.Placement of virgottama Rahu in the 11th indicates positive results, in respect of these things. Lord of 11th placed in 2nd along with Venus indicates more popularity to women, and name and fame to them. More women will get elected to legislative posts. Monsoon will be timely and sufficient.

Twelfth house: Discreet activities, loneliness, confinements, pressures, hurdles, illusion, dreams, mental tension, delays in work, too much work load without any rest, absent-mindedness, illness, spiritual and occult interests, criminal investigation, meditation, helping nature, foreign travel, hostels and jails, rest houses, hotels, mines, archaeology, underground houses, drugs, magic, hypnotism, transcendental meditation, bed comforts Foreign travel, clearing of debts and sacrifice are significations of this house. 12th lord placed adversely in the 4th, along with bitter enemy Saturn indicates discouraging results in respect of 12th house. People in general would become self-centred, without charitable and helping nature. They will be devoid of social responsibility. Hostels and jails will become places of controversies and many allegations will be leveled against them. Students aspiring for higher studies abroad will face many legal and procedural hurdles.

Flare-up of Petrol and Diesel prices:   Ever since the oil marketing companies started the daily revision, prices of petrol and diesel have started going up from 16th June 2018. When petrol prices are revised or changed every fortnight, there is a big variation in prices, which puts great additional pressure on the consumer.  Crude oil continues to remain cheaper; it is the taxes levied by the State and Central governments which are actually responsible for the ever rising petrol rates.  In the year 2019, Retrograde Saturn (29 April -17Sept.) will not allow the prices of fuel to come down.  

Cricket World Cup 2019
As on date, in ICC Test rankings India enjoys 1st rank with 125 points followed by South Africa with 112 points.  In ODI's India is trailing behind England with World Second rank. As per the indications of 5th house with placement of Ketu in vargottama in it and being aspected by another vargottama Rahu and 5th lord Saturn placed in 4th(angle) indicates handsome success to India in the World Cup Cricket 2019, to be played between 30 May-14 July 2019.

Lok Sabha Elections 2019
Horoscope of BJP: (Author's own source)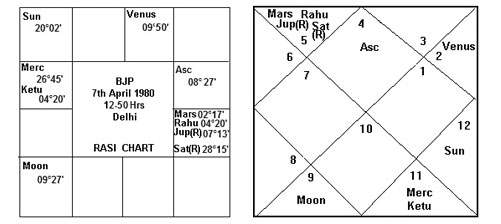 The BJP could capture power in the General Elections of 2014 in its Moon Dasa Mercury bhukthi. It could not make any progress in the Assembly elections in 2016 in  Ketu bhukthi. In Moon Dasa Venus bhukthi which ran from Feb. 2016 to October 2017, this party could capture power in big states like UP, Gujarat, since Venus as the lord of 4th and 11th placed in the 11th bestowed favorable results.  Now this Party has entered Mars Dasa from 20 April 2018 which will be operative upto 20 April 2025. Upto September 2018, BJP was in Mars dasa swabhukthi. This party will go to polls in Mars Dasa Rahu bhukthi in June 2019. For Cancer ascendant, Mars is a Yoga karaka, as the lord of angle and trine. However, despite being the single largest party, it could not  wrest power in Karnataka elections held in May 2018.  This is because of retrograde Saturn at the peak of sade-sati. Likewise in 2019 also, Saturn will once again retrograde from 30th April  to 18th. Sept.  Hence, there is a danger to BJP not coming to power, despite standing as a single largest party in the Lok Sabha elections of 2019. For Cancer ascendant, Saturn (as the lord of 7th and 8th) is not a beneficial planet and this point need to be taken note of carefully.

Horoscope of Congress(I):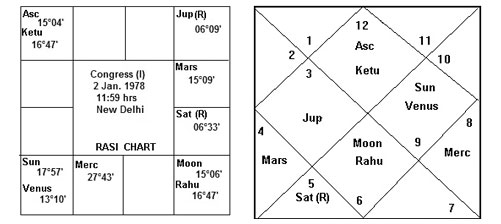 (Source: KNRao – www.journalofastrology)


Congress Party lost power in Jupiter Dasa Mercury bhukthi in June 2014. Jupiter as the lord of two angles( 1st and 10th)  and placed in another angle (4th) is not outright beneficial to Pisces ascendant. The Congress Party could regain public support to some extent only in Jupiter Dasa Venus bhukthi in Gujarat elections and also in Jupiter-Venus-Jupiter in Karnataka elections. Though it could not come to power, it could successfully prevent BJP from coming to power in Karnataka. This party will be running Jupiter-Venus-Ketu upto 22 July 2019, when it goes to elections. Ketu placed in the ascendant got purified with the aspect of Moon. But this alone could not ensure victory to Congress. Hence, though not having complete indications for absolute majority, it will improve its tally considerably, when compared to 2014 elections.

NarendraModi: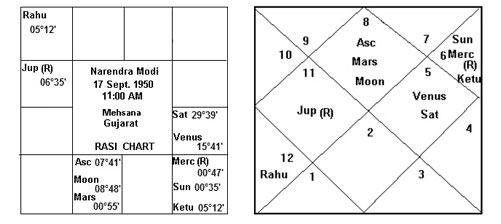 (Source:www.astrosage.com)


Presently, Modi is running Moon Dasa Mercury bhukthi upto 27th February, 2019. The bhukthi lord Mercury  being the lord of 8th and 11th is also a bitter enemy to Dasa lord. It is most likely that Modi's actions and decisions taken during this period will become controversial and Modi will start losing his popularity. Some of his trusted lieutants will dump him down, disagreeing with his policies. Number of scams, allegations of corruption, fast erosion of public support are very much likely. He will fight the next general elections in Moon DasaKetubhukthi which will be force in upto 28.09.2019. Hence, victory is not an easy task. His popularity will be on wane, and as per BJP chart also, we can conclude that BJP will be the single largest party and had to grope for the support of allies for absolute majority.

Donald Trump and Indian aspirations of relocation to  U.S





(Source:www.astrosage.com)


The U.S has always been in the forefront of attracting talented persons and rewarding them sufficiently. It is quite but natural that talented people particularly youth of India yearn to test their luck in U.S. The years 2017 and 2018 created a nightmare to many who tried vehemently for Sevis(Student admission for academic courses in US),  H1B Visas (for doing job in US) and also for Green Card(permanent settlement and citizenship). In this context let us examine how the year 2019 is going to fulfill the aspirations of  Indian youth. Whether Donald Trump will mellow his policies in favour of our talented Indian Youth?

In Trump's horoscope, Lagna is Leo and the Rasi is Scorpio. Born on an eclipse day, Sun and Rahu in close degrees have aspect of Jupiter. This confers a strong Raja Yoga in the 10th house.  Such a person will not leave any stone unturned for meeting his goals. He was elevated to the coveted post in Jupiter Dasa Jupiter bhukthi. This will be upto 3rd January 2019.  From then on, he will be running Jupiter Dasa Saturn bhukthi. The Leo Lagna made him strong enough, not to accept anybody's power, thereby giving him ability to make long jump. This makes him quite aggressive, with sharp intuition.  Saturn's transit into Sagittarius from January 2017 proved to be highly progressive for his political life. Jupiter's transit in the 3rd house is also beneficial for him, as it is aspecting his house of destiny and income. His Sade-satis going through its last phase, which will be upto 25th January 2020.  Jupiter's transit shall enhance his thought-force and therefore he would not get carried away by the provocations of his counterparts.  He shall work sensibly in his Jupiter Dasa Saturn bhukthi from Jan.2019 (last leg of Sade sati)  onwards, and eventually he will gain name and fame and emerge as a beloved leader in America. Saturn as bhukthi lord and moulder of democracy will help in increasing pro-India stand during the year 2019.

Eclipses:
The Earth and the Moon move in their defined paths in the Heavens, creating different fields of forces in the process. These relative fields and the equilibrium between their forces are disturbed, when the paths of the Earth and the Moon intersect. Rahu and Ketu are the two points representing the cross-roads in the fields of force of the Earth and the Moon, and are two points of disturbance. At the time of an eclipse, the radiation and electromagnetic vibrations coming from the Moon or the Sun are cut off and normal conditions set for the Earth get disturbed.

Lunar Eclipse: 16/17 July 2019 (night), 01.30 AM to 3.00AM. This should not be viewed by the natives of Purvashada and Uttarashada birth-stars, falling in Sagittarius and Capricorn  Moon signs. This eclipse would result in shortage of milk, danger to children below the age of 12, erratic behavior of women in general and problems to Textile and related industries/articles.

Solar Eclipse: 26 Dec. 2019 (Morning) 08.11 AM to 11:20AM. This should not be viewed by Moola and Purvashada birth-star natives falling in Sagittarius Moon sign.  This Solar eclipse would result in increase of prices of food grains, fruits and vegetables, Gold and not good for people in power.  Those in power will experience depression, tense situations with mental aberrations.

US Dollar
The Rupee-Dollar exchange rate would depend on the demand and supply of rupee vis a vis dollar.  As more Dollars come into India, Indian Rupee will appreciate and if India pays more Dollars, then exchange-rate would depreciate.  In June 2014, when Modi was sworn in as Prime Minister, the US $ equalled to Rs.59.67p.  In July 2018, it ruled at Rs.68.66p.Developed countries opted for quantitative easing and thus their interest rates have gone down.  Similarly, China has cut interest rates. Oil exporting countries are reeling under the pressure of falling prices of Crude oil. Thus they will be forced to cut interest rates in future, to maintain economic activity.It would then lead to majority flows of FII funds coming into india, which should ultimately lead to appreciation of rupee.  In 2019, from the beginning of the year, there will be increase in the price of Dollar from Rs.70/-. After some improvements in February and March, it shall go up again and finally the price of it shall get stabilized at Rs 68. After some unsteady gait  in September, it will continue to go high again in October, November and December and will end up at Rs.70/- only.  
Sensex:  On 25th July 2018, the Sensex reached a record 37,061 level, surpassing its all time high of 36,902 hit on 24 July. The Nifty breached its previous record high of 11,171 level, reached on January 29, 2018. During the period of Jupiter's retrogression in Sagittarius from April 10th to August 11th in 2019, the Sensex will have severe erratic ups and downs, and will stabilize at 40,000 points. Once again, during the period of Saturn's retrogression from 29 April 2019 to 17 Sept. 2019, the Sensex will witness a steep fall, due to steep fall, in share prices, due to the bearish attitude of Domestic Institutional Investors(DIIs).

Indian Independence Chart:
India was running Saturn Dasa at the time of independence. At the dawn of 2019,  as per Independence chart India  will be in Moon Dasa Jupiter bhukthi, which will be upto 10th Dec.2019. For Taurus lagna, Jupiter is the lord of 8th and 11th and is placed in the 6th.  Hence, either by lordship or by placement Jupiter is not helpful to India in his bhukthi. Hence, obstruction in works, loss of wealth, quarrels, fear from enemy, loss of animals, opposition from relatives, insult, obstruction to traditions and customs are indicated. Insult to teachers, Gurus and their equivalents are indicated. Senior politicians will not be cared. People would prefer  to enjoy other persons earning. Debt-burden and deficit in balance of trade will increase. Relations with neighboring countries will not be smooth.

Retrogression of planets
Mercury: (i) 5 March – 28 March  (in Pisces sign)  
(ii) 8 July  (in Leo sign) – 1 August  (in Cancer sign)
(iii). 31 October  – 20 November  (in Scorpio sign)
The influence is effective, not only for Pisces, but also for the other two Water signs — Cancer and Scorpio. This period is good for  introspection, re-analysis, re-organization, corrections and returning to some old projects, relationships, actions . It is not recommended to start new actions, to launch new projects or businesses. It is time to resume some discussion, to make some corrections to the projects that were started a few years ago, to re-negotiate contracts, partnerships and we can also re-start some courses or change our minds about other courses, or friendships.

Jupiter will be in retrogression from 10 April 2019 to 11 Aug. 2019 in Sagittarius. The retrograde motion of this planet often encourages widening the intellectual horizon and deepening the knowledge about spirituality,esoterism etc., In this period, the Sagittarians will make the biggest changes in their lives.They will also upgrade in their spheres of lives, especially in the professioinally domain.

Saturn is in retrogression from 29th April to 17th September. In this period, Saturn approves the difficult and laborious projects that require a constant effort for a longer period of time, loves taking additional responsibilities, appreciates tenacity, caution and moderation. Hence, this period is very much auspicious for starting mega projects which require long gestation period.



Indian Government would make sincere efforts to bring back clandestinely parked Black money in Swiss Bank and would be quite successful also in that.


It is going to be a tough time for people of dubious intentions like Neerav Modi and Vijay Mallya.


Stability of the Government,  progress of the States, success of the country in general and  charisma of its leaders are indicating positive results.


Despite drastic reduction of GST rates in the year 2019,  the Tax collections  will increase leaps and bounds, because of strong 2nd house, in the New Year chart.


Communal clashes will be more this year.


Many political heirs who depend on the charisma of their elders will romp home.
The main opposition Congress, though not in a winning position, will increase its tally considerably and become a strong force to reckon with, in the ensuing General elections.


Persons doing gobble's propaganda will flourish well. People will be gullible and they will easily believe the persons with gift of the gab, who can prove utter falsehood as universal reality.

* The online payment is for overseases customers only
In India:




EXPRESS STARTELLER



The Manager
Express Estates, Club House Rd.,
Mount Road, Chennai - 600002



Phone :

+(91)-(44)-28460245
+(91)-(44)-28460245 / 28460517



E-mail :

contact@starteller.com