As per
Manasagari
, one born in Subakrit Samvatsara will be well versed in his work, reputed, religious and also an ascetic person. He will take care of his people and be proficient in his dealings.
Yavana Jataka
holds views which are compatible to the name, like he will be highly fortunate and benefactor to others, learned and noble person, who will get longevity and will yearn for opulence and children. Mundane results are that the populace will rejoice and have prosperous time.
60 years have been divided into 12 Eras, and each one consists of five Samvatsaras.
Subakrit Samvatsara falls in 8th group of Era, and one born in this group will be unkind and complacent. He will get distressed due to illness and will trouble others.
The year begins on Thursday. It is described in
Ch.XIX Sl.13-15 in Brihat Jataka:
if the year precedes with the day for Jupiter (Thursday), the earth will be blessed with plenty of crops and great prosperity. Growth of medicinal herbs in plenty.
Vishuvayanam (Solar ingress in Aries)
If Solar ingress in Aries happens forenoon, bad time for kings (leaders). This year Sun enters Aries at 8.42 am, which may bring misfortunes to Country/State Heads.
Thithi & Nakshatra
All Thithis are good, except Shashti, Ashtami, Amavasya, Purnima, Chaturthi, Navami and Chaturdasi. 14 April 2022 is Sukla Trayodasi and Rohini Nakshatra. Rohini Nakshatra will give average results. Normally, these results are more pronounced and useful in Mundane, worldly, and terrestrial matters, in presaging the trends in the areas such as, meteorological, economic status of a country, political upheavals, natural calamities, etc.
General prediction for Subakrit year, as per classical treatises
North and South parts of the country will be affected in many ways. There may be war-like situation due to internal and external disputes between countries, resulting in decline of export and price reduction of those commodities. Widespread rain helps to grow crops and people may get sufficient grains and money. Eastern parts of Tamil Nādu will suffer, and cows will die/slaughtered in large.
Nine lords (Navanayakas and Upanayakas) for Subakrit year
| | | | | | |
| --- | --- | --- | --- | --- | --- |
| Portfolio | Planet | Date of Solar Ingress | Sign of ingress | Weekday | Upanayaka |
| King*** | Saturn | | Chaitra Sukla Prathami | Saturday | Lord of Horses |
| Minister** | Jupiter | 14-Apr-22 | Aries | Thursday | Lord of Elephants |
| Commander In-chief | Mercury | 17-Aug-22 | Leo | Wednesday | Lord of Cows |
| Argyadhipati | Mercury | 15-Jun-22 | Gemini | Wednesday | Lord of Birds |
| Incharge of clouds | Mercury | 22-Jun-22 | Arudra Star | Wednesday | Lord of trees |
| Incharge of Crops (Sasyadhipati) | Saturn | 17-Jul-22 | Cancer | Saturday | Lord of people |
| Rasadhipati | Moon | 18-Oct-22 | Libra | Monday | Lord of Snakes |
| Incharge of grains | Venus | 17-Dec-22 | Sagittarius | Friday | Lord of Camels |
| Neerasadhipati | Saturn | 15-Jan-23 | Capricorn | Saturday | Lord of Planets |
*** The day lord when Sun and Moon conjunct in Pisces (Chaitra Sukla Pratima) will be the King of the year and this day is celebrated as Ugadhi (Telugu New Year).
**The day lord of Solar ingress in Aries.
(Mars has no role for this year. When Mars is not the Commander in Chief, Army and Naval will suffer in that particular year).
Benefic planets have more portfolios than malefic planets. Therefore, people will be happy.
King
: This year Saturn holding the portfolio of king. Widespread rain helps to grow plenty of grains, fruits, and oil seeds. Government will introduce new rules and regulations which may affect average person. Minority religions will be in high hand and create problems among workers. Strike/lockdowns in industries will increase. Government will support Electric vehicles largely.
Upanayaka
: Saturn - (Lord of Horses): high speed trains like bullet trains will be introduced.
Minister
: Jupiter promises luxuriant growth of all kinds of corn, general happiness, and contentment. Cows will prosper. Money rotation will increase among the mass. Good for temples and spiritual men. People will be happy and friendly with each other in general. Victory in war.
Upanayaka
: - Jupiter -
(lord of Elephants)
: Elephants will be protected by Government.
Commander-in-chief
: Mercury will boost the Cinema industry. Terrorists will try to learn the art of spreading disease through wind. Government will take stringent action to maintain law and order. New Jet Planes will be added to Force. New Army armaments will be manufactured.
Upanayaka
: Mercury (Lord of Cow): Lots of cows will die due to illness.
Argyathipati
: Mercury - prices of all commodities will be in fluctuation. Cinema, Drama, Music, comedians, and other religion people will be fortunate.
Upanayaka
: Mercury - (Lord of birds) : Birds' sanctuary will be maintained by local authorities. New inventions will be added in high sequency communication network.
In charge of Clouds
: Mercury -- June-July 2022 will face normal rain and strong winds. Sea shore places of Kerala, Karnataka, Gujarat, and Maharashtra will be affected.
Sasyathipathy
: Saturn -- Agricultural lands will be affected heavily due to flood. Peanuts, black seeds like Till, Urad dal and Sunflower, Coconut, etc. will grow abundantly. Iron price may be reduced.
Upanayaka
: Saturn - (Lord of common people): People will suffer due to Government rules and new taxes and strikes by labours.
Rasadhipati
: Moon -- good rain. Crops like Sugar cane, Turmeric, rice will grow plenty. There will not be any water scarcity.
Upanayaka
: Moon (Lord of snakes): Snakes will increase in water bodies. Earth Worms in soil will help to grow plants.
Neerasadhipati
: Saturn--- Iron price will be on the high. People will use blue stones and Komedhakam largely. Oil price will increase. There will be scarcity for black colour things like Coal, iron, etc. Crops may be destroyed by insects. Siddha Medicine will be used largely.
Upanayaka
: Saturn - (Lord of planets): Astrological predictions may be accurate, and more people show interest in study of planets. (Astrology).
Dhanyadhipati
: Venus -- fruits and root vegetables will grow well, and their prices will be reduced. Agriculturists will introduce new techniques to grow crops well and enhance their economic conditions. People will have good Immunity strength.
Upanayaka
: Venus - (Lord of Camel): New herbal products will come to market especially in cosmetics business. Water scarcity even in desert area will not happen.
Transit of planets
This year, there is no Jupiter transit or Rahu-Ketu transit. Saturn will transit into its Moolathrikona house, Aquarius, on 17 January 2023 at 4:38 pm,. Which is 11th house for Zodiac chart.
Retragradation of Saturn and Jupiter
Saturn enters Aquarius on 29 April 2022 in Athichara, and Retrogrades on 5 June 2022. It re-enters into Capricorn on 13 July 2022 in Retrograde motion. It turns into Direct motion on 22 October 2022.
Jupiter turns into Retrogression on 29 July 2022 in Uttara Bhadra 4th quarter and gets into Direct motion on 24 November 2022 in Uttara Bhadra 1st quarters.
From 29 July 2022 to 22 October 2022, both the planets for King and Minister will be in Retrogression.
Jupiter, Venus, and Saturn Combustion
Jupiter is Combust from 31 March 2023 till the end of the Subakrit year.
Venus from 21 September 2022 to 23 Nov. 2022.
Saturn from 29 January 2023 to 5 March 2023. During Jupiter-Venus Combust period, it is not good to conduct marriages and Upanayanams, and other auspicious ceremonies
1st Solar eclipse
: 1 May 2022- 12.15 am to 4.08 am in Bharani star.
1st Lunar Eclipse
:16 May 2022- 7.57 am to 11.25 am in Visakha star.
No adverse effect will be there.
2nd Solar Eclipse
: 25 October 2022 - 2.28 pm to 6.32 pm in Swati Nakshatra.
North, North -east, West, South-west, and South- east parts of world may be affected by flood, Earthquake (Saturn in earthy sign when at each ingress of Sun into Aries, Cancer, Libra, and Capricorn) and outbreak of air borne diseases
2nd Lunar Eclipse
: 8 November 2022 2.38 pm to 6.19 pm in Bharani
China will create new problems in the border issue, and adverse developments in Kashmir will be in Headlines.
Tamil Nadu will suffer from unrest of different political parties.
Government may introduce new rules to regularise investment policy, such as Cryptocurrency.
Kalasarpa Dosha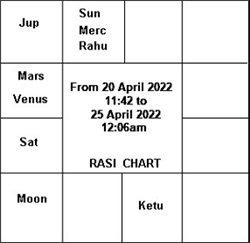 Flood, wind, and earthquake might affect North and Northeast parts of the countries. In India. employees will jump into strike /protest against Government rules. Odisha and West Bengal will be affected by flood and storm. Problem in Northeast (Arunachal Pradesh) may get intensified.
Grahamalika Yoga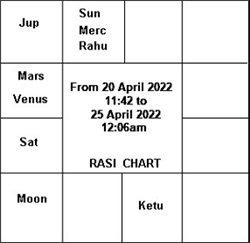 It is a good yoga, and children born in this period will become famous, and become ruler of a nation. We can start any new venture during this period. Any havans/pariharas conducted in this period will give cent percent benefic results.
Rasi-wise benefic points
| | | | | | | | | |
| --- | --- | --- | --- | --- | --- | --- | --- | --- |
| Sign | Gain | Loss | Good Health | Disease | Royal favour | Royal dishonor | Happiness | Misery |
| Sign | Gain | Loss | Good Health | Disease | Royal favour | Royal dishonor | Happiness | Misery |
| Aries Scorpio | 14 | 14 | 1 | 6 | 7 | 3 | 5 | 4 |
| Taurus Libra | 8 | 8 | 5 | 4 | 1 | 6 | 7 | 3 |
| Gemini Virgo | 11 | 5 | 7 | 3 | 5 | 4 | 1 | 6 |
| Cancer | 11 | 5 | 4 | 1 | 6 | 7 | 3 | 5 |
| Leo | 8 | 14 | 2 | 2 | 2 | 2 | 2 | 2 |
| Sagittarius Pisces | 2 | 8 | 6 | 7 | 3 | 5 | 4 | 1 |
| Capricorn Aquarius | 5 | 2 | 7 | 3 | 5 | 4 | 1 | 6 |
| Total | 59 | 62 | 32 | 26 | 29 | 31 | 23 | 27 |
This year expenses are more than income. Therefore, savings will be less. People will spend lavishly.
Diseases will be less. People would live healthy life. People will suffer due to new taxes and new rules imposed by the Government.
Miseries will be more than happiness. People will suffer due to family disputes.
(To know the above factors for family, we have to tabulate all the members' Rasi and find out the results).
Kandaya (Instalment) Phala for each Nakshatra
Star
First
Middle
End
Star
First
Middle
End
Star
First
Middle
End
Aries Scorpio
14
14
1
6
7
3
5
4
Taurus Libra
8
8
5
4
1
6
7
3
Gemini Virgo
11
5
7
3
5
4
1
6
Cancer
11
5
4
1
6
7
3
5
Leo
8
14
2
2
2
2
2
2
Sagittarius Pisces
2
8
6
7
3
5
4
1
Capricorn Aquarius
5
2
7
3
5
4
1
6
Total
59
62
32
26
29
31
23
27
If 0 comes 1st, then the first 4 months will be difficult period. If 0 comes in the middle,2nd four months suffer from poverty and if 0 comes in the last, last four months no peace of mind to the native.
Horoscope of Solar New Year "Subakriti"
How to understand the above Table?
Odd number indicates money gains, even number indicates medium gains, and zero gives nil results. Zero in 1st column indicates diseases, middle zero tensions, and in last column indicates threat from Government or higher-ups.
Lag: Ta 17:44:15; Sun: Ar 00:00:22; Mo: Leo 25:59:00; Mars: Aq 05:05:26; Mer: Ar 11:59:19
Jup: Pi 00:09:58; Ve: Aq 15:03:37; Sat: Cap 28:59:30; Ra: Ar 29:54:17; Ke Li 29:54:17
Solar New year is born in Taurus ascendant, which is also lagna of India's Independent chart. Lagna rises in Rohini Star and its lord is in debilitation in D9 with Mars.
Saturn Yogathipati for Taurus will be King of this year. Saturn in 9th house, own house, aspects 11, 1,3,5 and 6 houses. It's another house Aquarius has 1 & 6th lord Venus and 7 & 12th lord Mars denoting that the Prime Minister of the country despite the criticism, would remain popular and the country would be well off financially, overcoming the setbacks.
First House
: Lagna lord Venus is in Vargottam in Rahu's star and conjunct with malefic Mars. Good rain, unexpected profit from agriculture/horticulture product. Real estate, vehicle industries, cosmetics, medicine, Banking will flourish. Price of gas, petrol, diesel will get reduced or be steady. Love marriages will increase. Unemployment problem may get reduced. Since 7th lord aspects lagna and conjunct with lagna lord, relations with a prosperous country (USA) would be good, which will understand India's point of view.
2nd House
: 2nd lord in 12th with Rahu, and the 2nd house is aspected by Ketu from 6th house, with Mars and 6 th lord Venus conjunct, great deal of money will be spent on defence in a war-like condition. Changes in Banking sector, and slow pace in economy may prevail. People may spend lavishly.
3rd House
: 3rd house aspected by strong Jupiter and Saturn will create cordial as well as enmity with neighbouring countries.
3rd lord in 4th aspected by Venus and Mars: good crops, rains and improvement in Real-estate and Tourism.
4th House
: 4th lord in 12th -- exalted Vargottam and its dispositor in 10th : Government will remain fully entrenched despite criticism. There will be new finds in underground mines and minerals.
5th House
: 5th house relates to children, birth rate, education, all forms of national pleasure and entertainment, cinema, sports, stock exchange. Morals,immorality, scandals, crimes relating to immorality. High society and functions. Upper house of Parliament, educational places, diplomates from foreign countries. Strong Jupiter from 11th house and Yogathipathi Saturn from 9th aspects the 5th house. 5th lord is Combust, with Rahu. Pregnancy through IVF will increase. This year is not favourable for investment in shares. Children will suffer in large.
Mars aspects the 5th house from 10th house: there will remain bickering among the Cabinet members, and not so savoury incidents may take place.
6th House
: 6th house represents armed forces, territorial attacks-war, labour clashes, labour union strikes, loan and debts, medical and other services, and diseases in general. The impact of three malefics (Ketu in 6, Rahu and Saturn aspect the 6) influence to 6th house will create war-like frenzy. Government will take emergency decisions in external affairs. Air-borne diseases will be on the high.
6 th lord Venus in 10th: there will be increasing role of women in Government, Army, educational and literary fields as also in sports. This year is also the year of women.
7 th House
: 7 th house aspected by Jupiter from 11th house is very good, especially when 7th lord is in 10th with Digbala, conjunct with a benefic. Those who are waiting for marriages will get married. Women will be happy and will be honoured. People will become more spiritual, and undertake pilgrimages. Since Jupiter represents Capitalism, the relations with foreign countries, especially USA, will improve. Treaties and agreements will be signed, and the prestige of the country will rise high.
8 th House
: There is no planet in the 8th house, which is good. However, it is aspected by Sun, Rahu, and Mercury. There may be heavy loss of revenue and wastage of public money. There may be some ailments, suffered by Head of State, Government, or important person.
8 th lord in 11th: the Opposition will be in disarray.
9 th House
: 9 th house is strengthened by its own lord Saturn. It is yoga karaka for Taurus lagna. Tourism and Imports and Export will become a booming business. New agreements with foreign countries will be signed to strengthen forces, and many beneficial schemes will be announced by the Governments to Army personnel. Labour unions will become powerful. Higher officials must be careful. Bribe cases will increase. There may be disgrace to ruler.
Saturn-Rahu in mutual kendras indicate trouble from Muslims. Kidnapping of women and looting might increase.
10th House
: 10th house denotes Prime Minister, Chief Minister, Governor of a state, President, political position, chief executive, chairman in case of a company, etc. 10th house occupied by Mars and Venus and 10th lord in 9th. More women will be the Head of companies/institutions. There may be some unexpected problems in the Cabinet. Death of a political leader/famous personolity may happen.
11th House
: 11th house is occupied by Jupiter, in its own house. Banking industry will be strengthened. Its aspect on 3rd house from 11th augurs gains from trade, communication, and I/T industry. International relations will improve, and nation may have a good name in the comity of nations.
12th House
: 12th house is aspected by Ketu and its lord Mars. Foreign spies will be active. Many conspiracies will be hatched against the State. Rahu in 12th aspected by Mars: organised crime will flourish. There will be much expenditure and great amount of money will be squandered and misappropriated.
General predictions for India
Terrorists' attack in unique way will harm the peace in Kashmir valley.
Three cyclones will arise during this year.
Ms Priyanka Gandhi may become most favourable leader in Congress.
Bengal, Odisha, Bihar, and Eastern part of Tamil Nādu may be affected by flood or storm.
India will assist Afghan in its own way and will export food grains to Afghan to ease the worsening hunger crisis.
Gold and Silver prices may increase unimaginably, and then suddenly get reduced.
Rupee value against Dollar will slightly be high or steady.
Textile industry will help to enhance foreign exchange.
Riots/air pollution in Delhi will hit the headlines. Delhi Police will have tough time.
Change of Rule may take place in Northwest state.
Flood will affect South/South east parts of the nation.
Probable events
From 30 April 2022 to 17 May 2022
: there may be sudden explosion, railway accidents, strikes, riots, general lawlessness, organised sabotage attempts and unreasonable labour demands, fire, fighting, violence, and incendiarism etc. New diseases might spread; rowdyism might increase.
From 5 June 2022 to 22 October 2022
: the welfare of employees and unions may suffer. Saturn which provided the umbrella at the time of adversity now withdrew, it during its retrogression in Capricorn and Aquarius which are ruled by it. Many decisions were forced upon the employees. Petrol, Diesel, Gas, and coal prices will touch sky rocket. Oil production/import will become slow, resulting in price rise.
From 14 July 2022 to 6 August 2022
: Adverse results/riots in North India, and Jammu and Kashmir might occupy the Headlines. Natural calamities like strong wind may intensify. Death of a political leader/famous personality may happen.
From 29 July 2022 to 24 November 2022
: Growth of economy/foreign trade may slow down due to employees' strike. India's foreign policy will be under criticism among the leaders worldwide.
The period from 18 October to 16 November 2022
will be challenging for Cabinet Ministers. Prime Minister; Finance Minister may face adverse criticism. Unpalatable religious sermons will generate heat. A woman politician/leader/famous personality in the North will be targeted. PM's health should be watched. Mining industry will hit the headline. Central Ministry has to face challenges both internally and externally.
From 30 October to 12 January 2022
: Employees' Union will jump into strike and be stubborn in their demand. Heavy storm/flood will destroy properties. Tremors may happen in Northeast part of the country. Loss to Army/Navay may also happen.
Global Effects

USA: Racist riots, terrorists attack and, hijacking of flight may take place, during June-July 2022. Government will impose more State Taxes and Federal Taxes. A famous leader or an artist will die during this year. Relations with Oil & Petroleum exporting countries will get strained during August- September 2022. In the beginning of the year 2023, there will be economic slowdown. USA may have difference of opinion on India's help to Afghan. From 30 April 2022 to 17 May 2022, there may be conflict/difference of opinion among State leaders within the country in Northwest part of the country as well as friendly neighbouring countries in North-west to USA. South-east and East parts of country will be affected by storm and flood during July-August 2022.

China: China will face heavy loss of Army personnel. Chinese youths will become angry, as jobs are hard to find, and would start to protest targeting several icons during October-November 2022. China may relax the aggression in Northeast places of Himalayas after 14 April 2022, since transit Jupiter will control Rahu in 3rd house of China's chart. China may not keep up its promises on border issue. Rebellions will create problem from 30 April 2022 to 17 May 2022, and China may intensify the dispute with Taiwan and threaten with military action. Major changes in industrial policy and labour may take place, after 17 January 2023. Heavy rain fall will affect North side of the country.

Sri Lanka: Fall in Agricultural production will create shortage of food. More economic crisis will continue, due to increase in demand than supply of essential commodities and Covid 19 effects. Sri Lanka will face severe headwinds in this year on the escalating economic crisis and human rights abuse. Food crisis may slowly get eased after 13 July 2022. Bomb blast may take place in Southern parts of the country, during October-November 2022.