Element
Yin Metal relates to jewellery and small metal objects like knives etc. The characteristics of Yin Metal seem cold, distant, unapproachable at first sight, but in fact they are very sensitive and have a delicate soul. Yin Earth Ox symbolises upright, merciful, easy going and generous characters. They are always ready to heal others, just out of consciousness. The combination of the yearly elements indicate a year of creative relationship; however one needs to work hard and achieve.
The year is good to stay focused, work hard and set up the foundation for another good year ahead. Use the positive luck to make the best out of the year, improve your skill sets, and endurance.
Industries which may benefit are Wood and Fire related Education, Petroleum, Fine arts, power, energy, entertainment etc. Metal element related like automobile, banking and heavy engineering will do average, Water element related industries like shipping, communication, transport, away face challenges.
Adapting Feng shui, one can avert the difficult phase in store in the Year of the Ox, and mitigate its ill effects and move towards prosperity. Primary focus to stay healthy, happy and contended would be quite achievable through proper Feng Shui protection.
In the year 2021, the Animal signs, which receive good support from the year Zodiac Ox are Monkey, Dog, Horse and Tiger. The Zodiac, which will have to protect and defend from the clash with the annual Zodiac sign are Ox, Rabbit and Pig. However with proper protection and care, the afflicted Zodiac sign can also smoothly sail through the year.
To ensure that the home is well protected apart from the advice for the individual Zodiac, following basic Feng shui corrections would be extremely beneficial.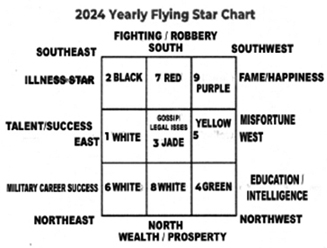 Place a Metal Wulou or suspend 6 Chinese coins with Red Tassel at the North of the house to overcome the #2 illness star at South, or place a pair of Blackobsidian Tortoise figurine.
Suspend 6 rods metal Wind Chime at the Southeast of your home to counter the #5 Misfortune star, also referred to in Feng shui as Five Yellows.
Place a Red decor at SW of the home and bedroom, to counter #3 Disputes/Quarrel/argument star.
Place a red décor at North of the living to counter #3 Disputes/ Quarrel/argument star.
Place 3 bamboo stems in a vase with water at Southeast and Centre of the living to protect the house from violence or robbery star.
Place Water feature at West to activate good luck and wealth.
Adapting simple and practical Feng shui tips for the home and the individual Zodiac, the Year of the Metal Ox can be transformed into a very auspicious and prosperous year.
In short, by adapting Feng shui, we can sail through smoothly, as it is easy to surf with Feng shui than to fight the tides of time.