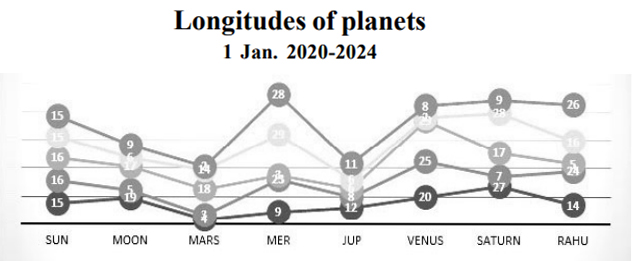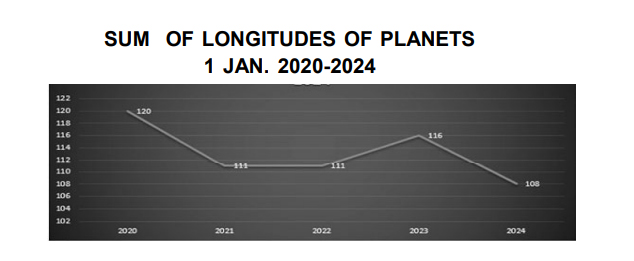 Note: Counting the total sum of Longitude of planets in each Rasi on 1 Jan. 2023 and comparing with 2019, before the Covid 19 era. The count for the year 2023 is promising, and it is on the rise. There will be recovery from the pandemic in 2023.

January 2023

The Gregorian year 1 Jan. 2023 starts on Sunday, on Sukla Dasami in progress, while Moon is with Rahu in Aries. During this time, Mars and Mercury are retrograde motion, Mars in Taurus and Mercury in Sagittarius. Mars in the constellation of Rohini 2nd pada, being in Vargottama, points to important events. Mars in the Fixed Earthy sign has already entered Taurus on 14 Nov. 2022. A prolonged stay in Taurus in retrogression would stipulate violence aggression, shooting, robbery, massive killing and conflict among leaders. Mars becomes Direct on 13 Jan. 2023, while Sun moves to Capricorn on the same day. Sun moves to Aquarius on 17 Jan. 2023. Mercury become direct in Sagittarius on 18th. The new Lunar month of Subhakriti Magha begins on 22 Jan. 2023. Venus joins Saturn again in Aquarius. A beautiful Grahamallika occurs from 17 Jan. 2023 from Libra, initiated by Ketu, to Mars in Taurus. Saturn-Venus close conjunction occurs at the beginning of Aquarius in the constellation of Dhanishta: a significant progress in air travel and industry and space exploration. Venus and Saturn together may suggest re-marriage, elderly love affairs of the celebrities. Rewards to films etc. Motor vehicles may take new dimension.



February 2023

A Full Moon falls on 5th, in the constellation of Pusya-Asleysha. The Full Moon will be aspected by Jupiter, from Watery sign of Pisces. The holy festival of 'Thai-poosam' will be an auspicious one, as Jupiter transits 9th from the Moon, and Mars transits 11th from the Moon.
Mercury moves to Capricorn on 7 Feb. 2023 joins with Sun: Diplomatic meeting. International summit.

The year 2023 will be a recovery phase era from Covid -19 pandemic. The New Year 2023 will see Jupiter and Rahu conjunction (Guru Chandala Yoga) in Aries. This association is not a desirable one. The impact of Mars transit in Taurus and Gemini and its retrogression to Gemini may put the world in to unresolved issues, especially aggression by Russia.

Sun moves to Aquarius on 13 Feb. 2023 and becomes associated with Saturn and Venus. Venus moves to Pisces on 14th; Saturn and Sun are in close conjunction, in the navamasa of Scorpio on 16th in the constellation of Dhanishta 4th pada. The new lunar month of Subhakrit Phalguna will fall on 20th. This month will witness Venus and Jupiter in association in Pisces, Saturn and Sun association in Aqaurus. Most of the planets will line up from Capricorn to Taurus. On 27th, Mercury moves to Aquarius, and Joins Saturn and Sun: an important dealing in air travel industry and labour market are possible.



March 2023

The monthly Full Moon occurs on 7 March 2023, in the constellation of P.Phalguni. On 12th, Venus joins Rahu in Aries, aspected by Saturn (third aspect): sexual abuse, scandal, erotic movies, dispute over land issues and wealth. Spread of disease, among cattle is possible. Mars moves to Gemini, the twin sign. Three Airy signs have two major planets-Saturn in Aquarius, Mars in Gemini and Ketu in Libra. Airy signs in harmonious aspects suggest lots of high level technology in Communication field, and digitalization globally will be enhanced. Computer-related programmes will be implemented with further new features. Space exploration will enter a new era. Sun moves to Pisces on 15th March, followed by Mercury. Jupiter, Mercury, Sun in Pisces will be very auspicious for diplomatic relations, internal conferences on trade. Good development is noted in currency; new currency trade may evolve. A new planning for the future global trade may be discussed. A famous religious movement may form a new culture. There is possibility a of famous religious figure to leave mortal body. Monastery system will get strengthened. Research on aquatic exploration under-water technology, Medical research on treatment of endocrine diseases are indicated. 21st March, Marks the new Lunar Year of Shobana. Mercury moves to Aries on 31 March, conjoining Rahu and Venus. Gossips about celebrities, media exposure and leak of classified information etc are foreseen.



April 2023

A Full Moon will occur on 6 April 2023, in the constellation of Hasta (4th pada). Moon is in Virgo, aspected by Jupiter and Mars, which is good for installation of Deity in temples or building commencement. Venus moves to Swakshetra on 7th. Sun moves to Aries on 15th. Mercury, Sun, Rahu in Aries will create tension in democratic countries, leadership will need to handle heavy criticism, scandals, and important document leak. The new Lunar month of Shobana Vaisakha will commence on 20 April. This will coincide with Total Solar eclipse in the constellation of Aswini 2nd pada. The eclipse will have some impact on Strong Grahamallika, ...Saturn from Aquarius to Gemini, Airy sign to Airy sign. Mercury will turn Retrograde on 21st, which will trigger sensitive vents in political arena, such as a coup, assassination attempt could happen. Since Airy signs are occupied by malefic such as Saturn, Mars and Ketu, fear of using weapon of destruction is there. Jupiter moves to Aries and joins Rahu. This point in the sign of Aries, will mark a commencement of difficult times for humanity. Guru Chandala yoga will cause the humanity to decline in virtues.



May 2023

On 2nd, Venus enters Gemini, a dual sign, joins with Mars. Monthly Full Moon falls on 5th, in the constellation of Visakha (1st pada). It also coincides with a Penumbral Lunar eclipse, which will be visible in Asia. On 10th, Mars moves to its sign of debilitation, Cancer. Mars throws its 8th aspect on Saturn in Aquarius. As Mars moves to Cancer, almost six planets will transit Chara Rasis simultaneously. Jupiter, Rahu, Sun and Mercury in Aries, Mars in Cancer and Ketu in Libra. As movable sign, traffic accidents, railway tract incidents, high tides are possible. On 15th, Sun moves to Taurus. A peculiar line-up of planets will happen, Grahamallika from the sign of Aquarius to Cancer. Mercury retrogrades simultaneously. The northern hemisphere may experience extreme Heat waves, and environmental problems may arise. The new Lunar month of Shobana Jyestha will commence on 19th. On 21st, Jupiter makes close conjunction with Rahu, in the constellation of Aswini 3rd pada, in the Navamsa of Gemini. Venus joins Mars in Cancer on 30th May.



June 2023

Venus, which moved to Cancer and joined with Mars, will set in the western sky after Sunset on 4th. Apparently, Venus during this time in the eastern elongation of approximately 45p is a head of Sun. Venus in the western setting has the tendency to cause fatal sickness to famous celebrities, normally those in the field of entertainment. A Full Moon falls on 4 th, in the constellation of Jyeshta (1st pada). Sun moves to Gemini on 15th. The lunar month of Shobhana Ashada begins on 18th. Saturn starts to retrograde on 18th, at 13p in Aquarius. In the constellation of Satabisha. On 21st June Solstice occurs. Mercury joins Sun on 24th in Gemini: Good time for publications, Tele-communication development, Deep space exploration, Diplomatic talk between nations and trade deals, good time for journalists, developments in countries sharing similar names like North and South Korea. On 28-29 June, peculiar pairing of planets will occur: Jupiter-Rahu (Aries), Sun-Mercury(Gemini), Venus-Mars (Cancer) Ketu-Moon in (Libra).



July 2023

The month, July will see Saturn and Mars opposition, as Mars moves to Leo on 1st July. Mars will oppose Saturn in retrogression in Aquarius. Malefics in the sign of Fire and Airy sign may cause incidents such as forest fire, explosion from Volcano, chemical plants, inferno. Since Leo is a political sign, there may be leadership pressure in certain democratic countries. A Full Moon will fall on 3rd, with all Fiery sign being occupied by planets. The Full Moon will get the 9th aspect of Jupiter from Aries. A significant religious movement or upsurge of awareness will happen. Monasteries will get strengthened. Venus enters Leo and joins Mars and aspect of the planet Saturn on it may inflict health problems among senior politicians, and royal circle may witness marital and conflict within is possible. The aspect of Jupiter on the other hand may improve the role the leading senior actors, celebrities. On 8th Mercury moves to Cancer, and Sun moves to Cancer on 17th. The lunar month of Shobana Adhika Sravana will commence on 18th . Venus turns Retrograde in Leo at 4p on 23rd. Both Venus and Saturn are retrograde and in opposition: controversial affairs, including scandal may emerge among affluent circle. Mercury joins Leo on 25th , aspected by Jupiter: good time for appreciations, rewards, honours at global level.



August 2023

This month, Full Moon will fall on 2nd. Venus in retrogression moves back to Cancer on 7th, joins with the Sun, indicating sickness, defamation and even death to actors, musician and celebrities. Venus is in exact conjunction with Sun on 13th, in the constellation of Aslesha. Events pertaining to coastal areas, watery spots, drowning, sea accidents, weather changes are possible. New Lunar month Shobana Nija Sravana falls on 16th. Second Amavasya occurs in the same sign of Cancer (adhika). Sun moves to Leo on 17th . Sun., Mars, Mercury and Moon join together: A stern decision by Government on defence policy, a political milestone. Mars moves to Virgo on 18th. Mercury turns Retrograde on 23rd: Issues pertaining to royals, government-rulers, politicians, health of elderly politician may be critical, and ruling governments will be subjected to criticism. August will be a month, with three planets in retrograde motion. On 27th , Saturn will come close to earth, as it opposes the Sun at 9p Aquarius. A Full Moon on 31st will end the month, with lots of significant events.



September 2023

Venus becomes Direct at 18p in Cancer on 4th; simultaneously on the same day, Jupiter begins retrogression at 21p in Aries, in the constellation of Bharani. The month of September will see major planets Jupiter and Saturn in retrogression, with Mercury. New Lunar month of Shobana Bhadrapada will begin on 15th. Mercury becomes Direct on 16th. During this season, Jupiter aspects Sun and Mercury in Leo, while Fiery signs of Aries and Leo are occupied by four planets. Some political landscape changes are possible, including new leadership in government or international organizations. A new trade deal is possible. Sun moves to Virgo, and Joins Mars, increasing aggression, hot weather, dry spells and volcanic activities. Women leadership in politics will be limelighted. Virgo governing the six house of the natural Zodiac might affect international debts, currency, a new disease etc. The monthly Full Moon will fall on 29th.



October 2023

On 2nd, Mercury moves to exaltation sign Virgo, joining Sun and Mars. Good times for trade, trade dealing, chemical and industrial dealings, underground tunnels work etc. Simultaneously on the same day, Venus moves to Leo. Venus receives the 5th aspect of Jupiter: luxury events, royal favour, high class weddings are possible. Venus in Leo, with aspect of Jupiter: good times for women leadership. Mars moves to Libra. The first week of September ingress of Venus, Mercury and Mars into different houses: interesting events in history will happen, which are sudden and abrupt. Mars joins Ketu as Vargottama in Libra. This may trigger sensitive events. Mars/ Ketu conjunction: prone to sickness, traumatic events, explosion, gas leakage, gang fights, massive shooting and air crash. Situation of Russia may call for attention. The lunar month of Shobana Aswayuja begins on 14 October. A Solar eclipse will fall on that day, crossing North America. A major earthquake is possible around this period with a fortnight. On 18th, Sun moves to its debilitation sign, and Joins Ketu and Mars. Libra, a Chara bhava, with Mars, Ketu and Sun may induce catastrophic events like train crash, aerial accidents, and a new surgical technique may become popular. Mercury moves to Libra, joining the Mars, Sun, Ketu. Jupiter's 7th aspect falls on the four planets. Great scientific inventions are possible; new information or milestone in space exploration with happen. A Volcanic activity is possible, around this period. Around 24th, the planets will cull around four signs only-Airy signs of Libra and Aquarius, and Fiery signs of Aries and Libra. A Partial Lunar eclipse will fall on 29 Oct.



November 2023

On 3rd, Venus moves to debilitation in Virgo. Parivarthana between Mercury and Venus will occur. Simultaneously on this day, Jupiter will be opposite to Sun at 16p in Aries, comes closer to Earth. Saturn becomes Direct on 5th Nov. at 6:19p , in the constellation of Dhanishta (4th pada). Mercury moves to Scorpio on 7th. Mercury receives 10th aspect of Saturn, in Aquarius. The Lunar month of Shobana Kartika begins on 13th. During middle of November, Sun and Mars are in close conjunction in the constellation of Visakha (3rd pada), in the navamsa of Gemini. Mars and Sun, both hot planets, might cause dry weather, hot waves, volcanic eruption, inferno in high-rise buildings, forest fire etc. Russia politics will get enhanced again. Sun-Mars crossing to Scorpio in close conjunction is a historic event. The monthly Full Moon will appear on 27th in the constellation of Rohini (1st pada). Mercury moves to the sign of Sagittarius on 27th . Rahu moves to Pisces on 29th. Ketu joins with Venus in Virgo. Ketu and Venus will form exact conjunction at the end part of Virgo in the constellation of Chitra 2 nd pada, in the Vargottama navamsa, a Significant events pertaining to women celebrities are likely- divorce, ill health, prestige issues. On 30th Venus moves to Libra, swakshetra of Venus. Venus receives 7 th aspect of retrograde Jupiter, a strong sign for reunion, recovery of Textile industry and further development space exploration. Prices of luxury items will go up. Long standing legal cases will be solved. Good period for musicians, artists, cinema, awards etc. Relation between Nations would improve. Good charitable activities will happen.



December 2023

Lunar month Shobana Margasirsa begins on 13th.
The Solar month of Kartika (Nov.-Dec) will see Mars and Sun together in Scorpio, trine with Rahu in Pisces. Watery signs become prominent. Mercury turns Retrograde on 13th in the sign of Sagittarius. Jupiter retrogrades in Aries, while Mercury retrogrades in Sagittarius, both Fiery signs. On 16th, Sun moves to Sagittarius, and joins retrograde Mercury, aspected by Jupiter. Some prolonged, sensitive, administrative, political issues may be solved. Some religious issue will also be solved. A beautiful historic Grahamallika will occur on 16th-Planets placed from sign of Virgo to Aries, by Ketu and Jupiter. On 17/18 December, Saturn-Moon association aspected by Mars may cause air accidents, landslides and floods. Saturn and Mars are Squaring, This year, Christmas will see Moon in Exaltation, in the constellation of Rohini, and Venus will ingress to Scorpio, and join Mars, opposing Moon. It will create romantic and pleasant moments, ensuing good relations. Last Full Moon of the year will occur on 27th. On 28th Mars will move to Sagittarius, and join Sun and retrograde Mercury. Mercury re-nters Scorpio in retrogression. Jupiter becomes Direct on 31st at the end of the year, while Moon in the constellation of Makha aspected by Jupiter opens a new era, as blessings from the Pitru loka. The year 2023 started with constellation of Aswini, and ends up in constellation of Makha; both are constellations of Ketu. A new awakening is in waiting for 2024.



ECLIPSES IN THE YEAR 2023

The year 2023 will see four eclipses. Two Solar eclipses and two Lunar eclipses
No
Date
Eclipse
Constellation
Effects
1
20 April 2023
Total Solar eclipse Visibility South/East Asia, Australia, Pacific, Indian Ocean, Antarctica.
Aswini 2nd pada, 5°39' Aries
Eclipse occurs in the sign of Aries, while Sun, Moon, Mercury and Rahu get aspect of Saturn from Aquarius. Aries is a Fiery sign; its lord Mars has obtained Parivarthana with Mercury. This eclipse occurs in the first drekkana of Aries.
Political changes, conflict among Nations, draught, volcanic eruption and danger to politicians, possibilities of heat waves, forest fire.
2
5-6 May 2023
Penumbral Lunar eclipse Visibility South/East Europe, Much of Asia, Australia, Africa, Pacific, Atlantic, Indian Ocean, Antarctica
Visakha 1st pada20°47' Libra
The eclipse occurs in the sign of Libra, in the third drekkana. Eclipse is aspected by Jupiter, Sun, Retrograde Mercury. Libra is an airy sign. Health problems to celebrities,actors and musicians. Since Saturn (Aquarius), Venus, Mars(Gemini) and Moon/ Ketu in Libra are in trine; Airy signs involved. Space exploration, new chapter in aerial communication and transport.
3
14 Oct. 2023
Annular Solar eclipse Visibility West in Africa, North America, South America, Pacific, Atlantic, Arctic.
Chitra -2nd pada Vargottama 26°56' in Virgo
The Eclipse occurs in the third drekkana of Virgo. Both Saturn and Jupiter in retrogression, and Jupiter joins with Rahu. Ketu is with Mars in Libra. This eclipse occurs during adverse transit: tendency for negative effects, such as sickness, theft, abuse of funds.
4
28-29 Oct.2023
Partial Lunar Eclipse Visibility Europe, Asia, Australia, Africa, North America, North/ East South America, Pacific, Atlantic, Indian Ocean, Arctic, Antarctica.
Aswini 4th pada10°58' Aries
Lunar eclipse occurs in the second drekkana of Aries. Almost seven planets aspect each other, along Aries-Libra axis. According to Alan Leo, such an Lunar eclipse will cause outbreak of epidemic, involving both humans and animals, high fever. Volcanic eruption and contamination of wind can occur. A peculiar disposition of planets: Saturn Venus in opposition, in Aquarius and Leo axis. Transport accidents, train, air crash, etc.


Prolonged stay of Mars in Taurus, an extension from 2022 (Mars transits Taurus, Gemini)
On 1 Jan. 2023, Mars is at 14:47p in Taurus, in the constellation of Rohini 2nd pada. Mars will be already in Retrogression, when the year 2023 begins. Mars' (Earthy planet) retrogression in Rohini, in an Earthy sign. Mars becomes Direct on 13th at 13:57p in Rohini 2nd pada. Mars moves to Gemini on 13 March. Mars will stay in Taurus for about seventy-one days. Mars transiting Rohini demands focus on security matters and defence mechanism of Nations. Referring to independence of Ukraine, as furnished by Wikipedia, as People's Republic on 22 Jan. 1918, its Moon sign is Taurus. The planet Jupiter was in Taurus. Vladimir Putin's Moon sign is Taurus (Krittika 4th pada). Thus, the transit of Mars in Rohini will have impact on Ukraine and Russian relation. Since Mars transits the natal Taurus lagna of India, crossing natal Rahu, and also 7th transit of Mars from natal Moon of Modi, the existing controversial political pressure will persist till March 2023. During this period, some rebellious movements may arise. Volcanic eruptions, earthquake or landslides are possible.

Saturn, Mars and Ketu in Airy signs
On 13 March 2023, Mars will move to Gemini. Saturn, Mars and Ketu will trine, occupying the Airy signs of Aquarius (Saturn), Gemini (Mars) and Libra (Ketu). Infact Sun and Mercury will be with Saturn then. This planetary disposition is a rare one, confining to Airy signs. Saturn and Mars, known for heavy mechanization, technology, industrialization, and Ketu for deep insight or knowledge will bring out, during this period, a significant development in Aero industry. New messages and development in deep space explorations, new findings will be released. Infact, new breakthrough in deep space communication or technology-based inventions are possible, including Computer-operating system. This combination will be operative till 10 May 2023.




Guru chandala Yoga
On 22 April 2023, Guru moves to Aries, and joins with Rahu. Guru becomes afflicted by Rahu. This is termed as Guru Chandala. Jupiter ingresses to Aries, and joins Rahu, Sun/Moon, and retrograde Mercury will be there too. It is significant to note that on 20 April 2023, a Solar eclipse has already occurred, prior to this Guru Chandala Yoga, indicating that Guru Chandala occurs in the eclipse point of Aries. Exact conjunction of Guru/ Rahu will occur on 2 June 2023. It will last till Rahu moves to Pisces on 29 Nov. 2023.

The Jupiter-Rahu association in Aries and Solar eclipse in 1929 is quite similar to 20 April 2023 Solar eclipse and Jupiter-Rahu association. The financial crisis of the Wall Street in 1929 and the pandemic influenza of 1929 are historical, due to Jupiter-Rahu association. During this association, financial scandals, leakage of important documents, misuse of funds and physical money policies would need great attention.

Venus' passage along Cancer and Leo. Retrogression in Leo to Cancer, and Direct to Leo.
Venus enters the royal sign of Leo on 7 July 2023; Venus will stay for a longer period in Leo. Venus will join Mars in Leo, and will receive 5th aspect of Jupiter and 7th aspect of Saturn. Venus turns Retrograde on 23 July 2023. Venus re-entry to Cancer is on 7 Aug. 2023. Becomes Direct again on 4 Sept. 2023 at 18p in Cancer. On 2 October 2023, re-entry in to Leo. On 3 Nov. 2023, Venus enters Virgo. Cancer and Leo are involved in the pentagon effect, depicting a change in the significations of Venus. There will be happy marriages, love affairs, good development in musical industry and also a change in the tourism industry significantly, A royal marriage is possible, re-unions are likely or rising to throne is possible. Rise of price of ornaments of Gold is likely.

Two Lunar months in the sign of Cancer
The year 2023 will see two Lunar months in the sign of Cancer. The first Lunar month will occur on 18 July 2023. Shobana Adhika Sravana. The next Lunar month will fall on 16 Aug. 2023 Shobana Nija Sravana. Two Amavasyas will fall in the sign of Cancer. It is known as Adhika masam or mala masam. It is also known as Purushotama masa. Worship of Lord Maha Vishnu /Krishna during this month washes away sins.

Saturn and Mars mutual squaring from 16 Nov. 2023 to 28 Dec. 2023.
Saturn and Mars will be in mutual squaring for 42 days. Saturn will transit Airy sign, and Mars will be in Watery sign. During this period, Jupiter will be already retrograde. Sun will be with Mars in Scorpio. Saturn's 10th aspect will fall on Mars, Sun, and Mercury. Watery sign of Scorpio will be afflicted by Saturn. Rahu will trine Sun, Mars and Mercury. Scorpio being the 8th house of zodiac, there will be tendencies for catastrophic events, natural disasters, violent attacks, coastal dangers, typhoon and tornados. High tides are possible, an underwater volcanic eruption, earthquake are possible. Exact squaring will occur on 26 Nov. 2023 at 6° in Aquarius and Scorpio. On 27 Nov. 2023 a Full Moon will fall in the sign of Taurus 10°. Mutual squaring of Saturn, Moon, Mars and Sun during this week would create highly sensitive issues, aggression and some notable natural phenomenon will occur. Amavasya will fall during this squaring of Moon, Mars, Sun, which will be aspected by Saturn. Scorpio resembles a poisonous element and is mysterious.

The year 2023 will begin with Moon in the constellation of Aswini and end up in the constellation of Makha ruled by Ketu. Apparently 2023, numerically comes to 7, ruled by Ketu. Rahu-Guru association in the first sign of the Zodiac is a symbol for restoration of Dharma.