| | |
| --- | --- |
| Signature Analysis | |
YOUR SIGNATURE REVELAS THE REAL 'YOU'
SIGNATURE ANALYSIS
Name :
BILL CLINTON

The most successful man Bill Clinton naturally possesses many successful traits in his signature. With his illegible signature in the horizontal position, he has overcome many obstacles and still maintains his name and fame. Even after he leaves the White House, he will occupy an important position in the society and in the minds of the people around the globe.
Name :
QUEEN ELIZABETH II

The Queen has been blessed with a royal life almost throughout her life. Now there is not much left anymore for her in the future. It seems that a natural death may not be in the offing.
Name :
Sachin Tendulkar
(Star Player, Indian Cricket Team)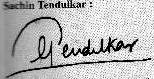 The signature is applied illegibly at horizontal position. He must avoid drawing the line below his signature. This indicates his over-confidence which will interfere on his way to success.. The decorative starting of the signature reveals his innovative nature. The master blaster's techniques are innumerable. He will ever remain a hero to many youngsters.
Name :
Sourav Ganguly
(Player, Indian Cricket Team )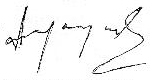 The signature has a lot of tail marks. The native has applied an underscore which goes towards left first and then right with a tail mark. It is better to avoid such an underscore. He will face many problems in his personal life. The gaps in-between the alphabets, Aeromatics strokes, etc. indicate the native's hardwork, helping tendency and popularity. He has to be very careful with his friends, not depending on them too much. Favourable colours are white, red and blue.
Name :
Rahul Dravid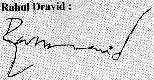 The prominent feature of the signature is the stroke of 'R'. Even though these types of strokes bring success, these also indicate opposition from unexpected corners. The lengthy "d" with a tail-mark has made him very popular. He will shine well in all his endeavours. Very favourable periods are ahead. But he has to be extra-cautious in his marital life. There are indications of developing more than one relationship. It is better to avoid the extra tail-mark under "R".
Name :
Kapil Dev
(Former Captain and Coach, Indian Cricket-Team)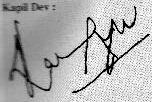 The signature is applied very illegibly. He has applied a solid loop for the letter "L". He has decorated the letter "k". These indicate him to be a man with helping tendency. The inclination of his signature speaks of his immense confidence. Most of the letters in his signature are lengthy, showing his dynamic nature. He will remain in the limelight throughout his life.
Name :
DHANRAJ PILLAY
(Captain, Indian Hockey Team)

Design of the Signature : Box cutting, Tail Mark, Oval and Crystal cutting with needle point.

Strokes of the signature : Mountain roof, Shipboard with Aeromatic strokes, inclination of 15 ° right up.

The native possesses balanced-mind and excellent I.Q. His power of judgement, confidence and optimism will lead him to success in all undertakings. He will see to it that his actions will never hurt others. At times, he thrusts his views on others and behaves dominatingly. The slant of his signature ensures success in professional activities from April 2002 onwards. There will be a turning point in his life for the better towards the end of 2005.

Name :
AJIT JOGI
(C.M., Chattisgarh.)

SUGGESTED CHANGES IN THE SIGNATURE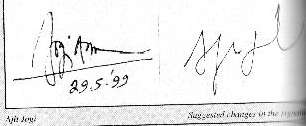 His outstanding ability is to be speedy but steady. He is not at all impulsive. His excellent memory power will take him to pinnacles of success in politics from July 2001. Mountain-roof strokes indicate change of place in the near future for the better. The square-cutting conform positions in the Government from the year 2004. The starmark /shipboard strokes indicate a life of financial security and social service from May 2012 onwards. Good prospects will increase if the signature is applied with some changes from the original as presented here.

* The online payment is for overseases customers only